COVID-19 has brought about unprecedented disruptions, impacted the economy across the globe and created a paradigm shift in higher education. Since the end of March 2020, there has been a national lockdown, bringing a standstill to almost all activities. This year MBA students have gone through a myriad of experiences and emotions due to COVID-19. The graduating batch of MBA students who got placed had their own set of worries, and the Year I MBA students had their apprehensions of their SIP. SIP or Summer Internship Program is one of the key experiences that are cherished by all MBA students. With COVD-19 unsettling all their aspirations, it was a Herculean task of the Placement Cell to get virtual internships for the entire batch, across various specializations. But much to the delight of the students, the Placement Cell arranged a good list of more than 50 companies who were ready to offer them virtual internships in multiple domains. As a result, some students are even pursuing two internships simultaneously.
Two weeks on, I got talking to a few students of the current MBA batch to find out their experience till now and am sharing it here.
Surbhi Dhasmana – Intern at E&Y
It is totally a new world for Surbhi Dhasmana. This dynamic youngster, aspiring for a career in the area of finance, has been fortunate to be selected as an intern at Ernst and Young (EY), one of the 'Big Four', in the department of Risk Management Services. Her orientation training last more than three weeks, which gave her comprehensive insights into the structure and policies of the company, the service line, the team and her role. She had been initially assigned the responsibility of research and analysis of financial documents and files of the clients in the database of EY and on the International Database. Based on a high-quality score of this analysis by her reviewers, the company has assigned her more critical tasks. She now interacts with the Engagement Partner of the Clients to gather more information and seek any clarifications they may have. Her experience so far has not only been interesting, full of learning, it has been also challenging working for one of the world's top-most financial companies. Having a supportive industry mentor with whom she communicates freely and gets a prompt response to her queries has made her internship journey exceptionally smooth. Surbhi loves the work culture of EY, which is a flat organization and offers easy approachability. She has interacted with a diverse group of individuals and enjoys a strong connect between the team members. Besides the mentor, she is also assigned a 'buddy' to resolve miscellaneous issues. She is usually working around 10 to 11 hours a day, but she is not complaining. She has created her schedule and has become time smarter. She has polished her excel and other technical skills and is achieving the required results within the given time schedules. Surbhi feels that the normal office internship is good to network with people and leads to one-to-one learning and better time management. Since this virtual internship is inevitable due to the COVID–19 circumstances, she has learnt to work and discharge her duties and responsibilities remotely and achieve the same results.
Sharad Karnani – Intern at Fever FM
Sharad Karnani is an aspiring marketing professional who is interning at Fever FM in the area of brand marketing. After his induction, he got an opportunity to work in the area of marketing research and digital marketing. The overall experience has been good, with continuous learning and capitalizing on new things every day. He misses the physicality of an in-office experience but with supporting mentors and getting to do new tasks daily makes it fun. He has gradually adapted himself to his virtual internship, sitting at his place in his own comfort zone. He feels that it has increased his efficiency of working, but sometimes it is boring with no other colleagues around. He gets timely responses and feedback from his mentor with whom he communicates without any hitch. He is happy to be learning new skills every day and as of now with only 5-6 hours of work, there is not too much of pressure, so it is going smooth for him. In a short span of fifteen days, he has learnt the nuances of business communication. He does not like the occasional non-involvement in a task due to the physical absence from the workplace. He is still coming to terms with his virtual internship, he is missing pursuing physical internship which allows a connect with real people that is important to learn, grow and make new connections. But he understands the current circumstances and is grateful to IILM University for providing the perfect internship according to his preference and needs. He is glad that even in a virtual mode, he has been able to enhance his skills and develop himself. He is looking forward to contribute meaningfully to his internship company and gain valuable insights into the contemporary market trends and organizational dynamics.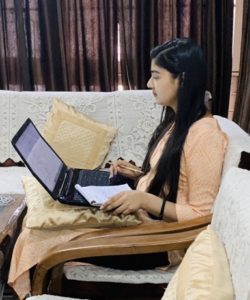 Ishali Gupta – Intern at UN Global Compact
Ishali Gupta, who is the Vice-President of the Synergy HR Club at IILM University, is interning with UN Global Compact India in the HR domain. After her induction, she was assigned the task of undertaking research, preparing questionnaire for need analysis and feasibility study for developing a new online program. Spending around 6-8 hours during the day, she has already honed her skills in database management and tech skills. Even though the internship is virtual, and it has been two weeks, she has been able to get knowledge about various sensitive topics like sustainability, women leadership etc. through the webinars and virtual meetings and how to work as a professional. She has been able to get an work closely on the SGDs particularly related to gender issues. She has increased her network on LinkedIn. While she is enjoying her stint as an intern, she would like to have a defined time to work. Initially there were challenges to balance her work life, but now she has been able to create a schedule for herself. She was initially sceptical to pursue a virtual internship, but she is now finding it useful. Her mentor is quite polite and she communicates freely with her. She got the SIP opportunity through campus and is glad that the University has always been supportive for any issues related to internship. 'Happy to be a part of IILM University Gurugram' is what she has to say.
Raja Singh Rajput – Intern at Mfilterit
Raja Singh Rajput is among the well-networked and popular students of the batch, who secured an internship in the area of data analytics at Mfilterit. His erstwhile technical skills gave him an edge over others, and at the onset of his internship, he got to work on a new data visualization tool, Power bi, which gave him exposure to interactive visualizations and business intelligence capabilities. It has been a rewarding experience for him with his industry seniors supporting and helping them in every possible way. His mentors are very calm and patient while explaining things, as it is quite difficult and frustrating to understand tasks related to analytics in an online mode. Through his internship, he can now apply whatever concepts he studied in MBA. One of the initial hurdles he faced when his internship started, was that it was quite difficult to understand the concept online. Slow internet connectivity led to the video feeds freezing, making for a bumpy online experience because of low bandwidth and congested airways. But this has given him the opportunity to improve his patience levels! His work schedules are sometimes as high as 8 hours, and he operates on the deadlines given. Flexibility of work from home sometimes gives him the time to read books and pursue online courses. This virtual internship has given him a unique opportunity to independently take decisions after researching on the issue at hand rather than relying on assistance from others. Working remotely has been a big adjustment which he has made and is quite used to now. One of his key learnings apart from the technical skills is the understanding the importance of setting goals and expectations and asking for ongoing feedback.
Komal Yadav – Intern at Panasonic India
Komal Yadav is an ambitious young student who has got the opportunity to intern at Panasonic India in the sales and marketing department. It has been a fruitful learning journey for her. She has got an in-depth understanding of the product, refrigerator market, distribution channels and pricing strategies. She learnt the skill of creating channel strategy using market share and numbers of counters for different tier branches through simulation. She got a practical learning on customer buying behaviour and their pre, during and post-purchase decisions. She worked on PSI (Purchase, Sales, and Inventory), thus honing her Excel skills. She has got a hands-on learning about the industry terms and jargon. She has been able to enhance her email etiquettes and professional communication. Her internship has taught her the importance of deadlines. She feels that the success of a virtual internship lies on increased planning and consideration by both the intern and supervisor. Even though it is virtual, yet the internship can help gain skills and make connections. In the last two weeks she has learnt to create a professional environment while working at home and the significance of proper time management. Her industry mentor clears all doubts and has given her the freedom to ask any queries without any hesitation. She is finding her internship quite engaging and interesting. With the guidance of the industry mentor, she has been able to perform even the challenging tasks with ease. On an average she spends 6-8 hours per day on her assigned tasks and with each passing day, she is becoming more productive. While she feels that virtual internship is useful, but only to some extent. Komal thinks that visiting the company to get a real experience is a must. But she acknowledges that in these hard times, it is difficult to get an internship. She is grateful to IIILM University, particularly to the Placements Head, Prof Ruchi Shah, for providing opportunities, support and guidance in these times.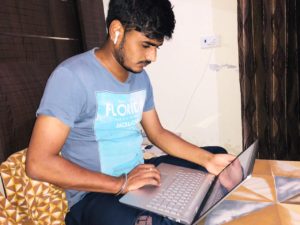 Ankush Bansal – Intern at Dabur and Kellogg's
Last but not the least is Ankush Bansal, a young proactive student, who has opted for two SIPs simultaneously. Since its virtual, he feels he can manage both simultaneously. He has always been a multi-tasker in class, and it was his dream to get into a FMCG company. When he got the opportunity to intern in sales and marketing at Dabur (Chandigarh) and Kellogg's (Ludhiana), both located in his home state, he did not have the heart to leave either of the brands he got selected in. He is learning the rules of the game on his own, without any induction from either of the organizations. At Dabur, he is required to be in touch with the retail shops and get the data for registering them on the Suraksha Store Portal (Govt. initiative). He is required to prepare the product portfolio of Dabur Real Juice and compare it with its competitors. At Kellogg's, he is responsible for calling the KPC of the Kellogg's in Chandigarh and Ludhiana area for their brand Pringle and conduct a survey. His double internship has given him immense learning so far. He has not only come to know about how the companies work, but also given him the opportunity to overcome his hesitation issues. He had teething issues in the beginning and found it difficult to cope up, but now, he is leveraging technology to adapt and perform as per the requirements. Both his mentors are supportive, and he gets a quick response to his queries. They have given him an environment to communicate with them whenever there is a need. He is working for 4-5 hours on an average in a day but wants more, especially field work, which he is missing badly. He has improved his communication and tech skills but would like to go out and network. He strongly feels that sales cannot be learnt virtually. However, he feels blessed that at least he has internships in hand, all thanks to IILM University.
These experiences indicate a new class of managers in the making. These self-motivated, energetic youngsters have beautifully adapted themselves to the virtual environs. They are among the 200 odd MBA students of their batch who have coped to the situation and geared themselves to a different phase of learning. They are past their disappointments of not doing a physical internship and all apprehensions. With the continuous support and guidance of their faculty mentors and the Placement Cell of IILM University, these students are in fact now surging ahead to learn and progress in their professional lives.