CONCRETE
A Trending Material for Interior Décor
Concrete is the best way to add an industrial look into your home decor. The industrial look in the interior has made a hold for a while now, and it's showing no marks of decelerating. While we aren't all lucky enough to live in an old transformed warehouse full with genuine industrial elements, there are easy ways to give our homes that distinctly urban feel. So Designers have started to add on Concrete furniture, Concrete Accessories, Concrete Room Styling, Concrete Bathrooms, Concrete lights.  When people hear "concrete," they often think it's going to be extremely heavy, ugly stuff only fit to sit in parks and bus stops. But most people are now realizing modern concrete furniture can be just as elegant, nearly as light, and far more durable than other furniture materials. Starting with its incredible durability and aesthetics, Concrete has become a trending material in Urban home décor.
Functionality & Aesthetics
Concrete can hold heavyweight, resists scratches and scores, and is highly heat and cold resistant. It will never warp, though it may develop hairline cracks that are non-structural and often enhance the beauty of the piece. While corners and edges can damage, it generally happens when the table being dropped or some heavy object hits it.
Sealers make concrete very stain resistant. Spending a few minutes waxing the table every few months with beeswax or concrete floor wax (not automotive wax) will further protect the sealer and extend the stain resistance for decades, and the table can be resealed after many years if needed. The sealer we use is a penetrating densifier (water-based chemical solution), Sealer hardens the surface and makes the concrete less porous so liquid can't easily penetrate the surface. Sealers change the chemistry of the concrete itself and do not affect the look of the concrete.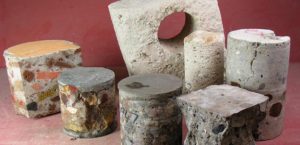 Image 1 
Can be refinished and repaired more easily than some materials. Chip offs can often be filled in and mostly or nearly completely repaired, with no experience with concrete required, just by grouting with matching cement (though it depends on what kinds of aggregates and cement used to get a complete match). Other materials like glass and acrylic can be very difficult to refinish at all.
Concrete furniture can easily go from indoor to outdoor without the need for a different sealer that changes the look of the concrete-like often is the case with wood. Since UV, heat, moisture, cold, and freeze-thaw cycles have little effect on our concrete, you don't have to worry about bringing in the concrete in extreme weather.
Non-toxic and food safe. No or negligible amounts of VOCs (Volatile organic compounds) are emitted by concrete, concrete is not flammable.
It's really not that heavy. In fact, hollow concrete can enable shapes and sizes of tables that would be extremely heavy if made of wood or steel, and stronger than tables made of lighter materials like plastic or ceramic. GFRC (glass fibre reinforced concrete) techniques give concrete a nice solid weight that's not back-breaking but feels very durable.
Easy to keep clean with just soap and water.
Concrete can take almost any shape, colour, many different textures, and tons of different impressions. It's arguably one of the most versatile materials for furniture and design in general, with its combination of strength and freedom of appearance. It can appear machine-finished and glossy, or handmade and textural.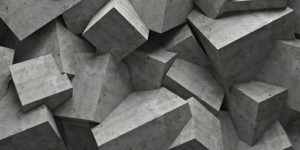 Image 2
Concrete can have a more "natural/raw" look than many other surfaces, especially when aggregates are exposed or there are organic impressions. Concrete also arguably has a warmer feel, both on the eyes and hands, than steel, glass, or wrought iron, especially. Certain concrete colours can even compete with darker woods for warmness.
Every inch needs a focal point. Since concrete finishes is a visually substantial material, it gives a stack of visual weight to the room. This means it will directly draw the eye and powdered the space.
Image Credit:
Image 1: https://www.sandberg.co.uk/laboratories/construction-materials/hardened-concrete-testing.html
Image 2: http://useofcement.cembureau.eu/2019/01/23/self-healing-concrete-friendly-bacteria-fixes-cracks/