Introduction:
As a cool cucumber can turn into a savaged looking cactus, all of us can indeed turn our calm selves to something ferocious because of anger which at times triggers violent responses. Reactions ranging from rash driving to banging doors to actually getting into a physical altercation and verbal aggression are seen most commonly with people who are apparently aggressive.
Social Psychologists cleave the concept of aggression into emotional and instrumental aggression which is to say that former results from unhappy/negative emotions (carried out in the heat of the moment like slapping in a fit of rage) whereas the latter is intended, a well-planned move (to hurt someone purposely like a bully in school or at work).
Aggression is exhibited in physical aspects – hitting, kicking to non-physical aspects like verbal (yelling), social (bad-mouthing, excluding others), racial (micro aggression), sexual (misogyny, homophobic jokes) that are intended to harm others.
Following Liberal education at IILM University, we teach life skills in out everyday classes in the form of role plays or class discussion to help them accept, understand and manage negative emotions.
But why do we aggress? Is it like a life skill that we all need so that we don't look meek?
Evolutionary Scientists explain that we have an innate ability to protect as well as seek continual survival of our genes. Human beings need to be able to aggress in certain situations, and nature has provided us with this skill which means that under the right situation, almost all of us will aggress (Buss & Duntley, 2006).
Physiologists' support evolutionary perspective as it is known to mankind that aggression is controlled by Amygdala i.e. limbic system inside the cortex controlling emotions. This further controls our autonomic nervous system which in stress activates flight-or-fight mechanism.  What science is trying to explain to us is that under stress, we will either fight the stressor or run away from it. Not only this, some imperative chemical substances in our body like serotonin which when found to be at low levels predict aggression (Kruesi, Hibbs, Zahn, & Keysor, 1992; Virkkunen, de Jong, Bartko, & Linnoila, 1989).
Behavioral scientists feel that what we see in our environment is how we condition ourselves to be; so if children see their parents act out aggression by hitting, to them it's OK to do the same. It's no rocket science to explain that aggression would harbor aggression and the more we see it, the easier it is for us to repeat it.
It is imperative to say that one's social situation also makes it critical for a response like aggression. As it is commonly noticed that we may react violently in situations where we are uncomfortable/ fearful or provoked (with friends or subordinates) but may react more calmly in others (in front of an authority).
On hindsight, it is easy to recall that when we were aggressive, we were likely to be experiencing a negative emotion (example- unhappy thoughts, pain or discomfort) that's why it became so easy to react aggressively. In general, it could be the feeling of being ill or undergoing emotional disturbance that makes one vulnerable to frustration which further provokes violent behaviour.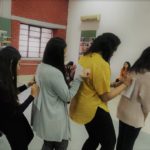 At IILM University which is considered one of the best private universities for Psychology around Delhi/NCR, we teach critical thinking and communication skills along with other courses where we discuss how anger does not become an issue till you keep ignoring it. Reaching to the core of an internal conflict and addressing concerns is half battle won without inflicting pain to self or others.
How to if not stop, control aggression?
The answer to this is Catharsis which is a process of releasing, and thereby providing relief from, strong or repressed emotion. For reducing negative affect and its arousal, if we can actively distract ourselves from that emotion it can help break the cycle of being provoked to react in anger. Catharsis can be any form of meaningful engagement like talking it out, exercising, listening to music and is most useful when done alone.
At undergrad and master's courses in Psychology at IILM University we teach positive and social psychology and most importantly emotional intelligence. We endeavour to help our students with a thorough understanding of psychology, its components and how aggression is a symptom of repressed issues which through therapy and counselling can be managed.
Conclusion:
Aggression is seen more an emotional than instrumental response needs to be managed by first checking on our feelings. We need to assess what caused this emotion and why? At times aggression is directed at something different than what actually provoked it. When we think carefully about our situation, rather than simply responding in an emotional way, we can carefully choose the most effective responses when we are angry (Berkowitz, 1993).
To conclude, aggression is not a disease we need to fight, lets comes to terms with how normal an aggressed response is; but accept that it cannot be typified into personality. We need to address cause before the management for a long-term goal.