I have returned from India with much more than just Modi's lessons on leadership. There are no words to describe the two weeks stay at IILM as a guest lecturer, but I will do my best to find some.
Unpredictable hospitality
First of all, the unpredictable hospitality of IILM colleagues – their welcoming attitude and care, and the omnipresent attitude of "Athithi devo bhava" ("Treat a guest like a God") – blew my mind. I enjoyed every moment at the university, from every talk to every little chat over lunch. I was really surprised by the substantial number of commonalities of India and Indian culture to Iran, my favourite spot on Earth. The friendly attitude of people in India is extremely close to the Persian way of living and behaving. This is not the only influence of the Persian Empire on the country, though. Beautiful architecture, gardens shaped in a Persian way, delicious and varied cuisine and even the bits of the language which I started to understand all show some signs of ancient influences.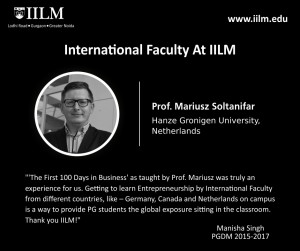 Seeing developing economy and its scope
The two weeks spent in India have allowed me to see how fast and dynamic the development of an economy can be. Three times faster than Poland's tempo, which I know from it being my country of origin. I dare say we have to speed up in The Netherlands, too, to keep up with India.

Speaking at UN conference
Speaking at the PRME – Principles for Responsible Management Education – conference, organised in cooperation with UN, has opened my eyes to significant issues regarding social life and social challenges in India. The huge contrast between extreme poverty and refined luxury will stay in my head for a long time. I will never be inert to these issues again. I came back to The Netherlands, but my heart is left still there, shouting do to something for a change.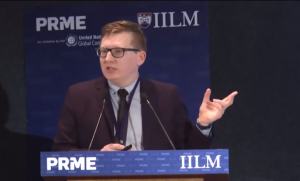 The conference was live streamed, you can watch it here.
My presentation starts at 18'35 – your feedback is more than welcome.

Helping children to facilitate education
I am glad I got the chance to visit one of the locations where the project "Support my School"  by Coca-Cola is initiated. Once seeing the potential of young girls, being hungry for education in Faridabad, I have immediately started to be involed in this project  and I am going to offer myself, my skills and my network to help to facilitate education, shelter and medical care for children in India. At the moment, I am cooperating with Coca-Cola on the 'Support My School' project, organised together with World Vision, and I am designing a social campaign with Google.
Adjusting my own teaching style
Teaching in the classrooms has expanded my horizon over the different teaching style applied and a new approach to sharing knowledge has been practiced as well. I promise we will see each other again sooner than everyone thinks.

Living at the campus
Living at the campus got me a chance to know the students better and be involved in long and challenging discussions. Playing table tennis with them also helped me to burn some energy and improve my skills. It was a wonderful end to the days. Dancing with the students during Happy Lori Festival and being involved in long discussions, not only around the fire ring during this day, but in general, will stay long in my memories as well.

To travel is to live
Following my credo, I packed my bags and went for a weekend to Mandal, a small village near to Bhilwara, five hours away from Jaipur. This place has amazed me from the very begging, especially contact with locals, talks with them and tasting delicious cuisine. It is great to have friends all over the world, and Jitendra, thank you for taking care of every small detail during my stay there.

Stay inspired
For everyone interested in doing business, studying or traveling to Poland, feel invited to check out Link to Poland, and remember – there is not better investment (after believe) than traveling, therefore stay inspired and search for your new destinations to visit at To travel is to live.

Thank you everyone!
It was an amazing time, enriched by the mix of flavours and fragrances and the beauty of the land. Thank you for your amazing hospitality IILM! Especially warm thanks to Sanjay Srivastava and Nidhi Piplani, my buddies during my stay there and to the five students: Akash, Ashaab, Himanshu, Kanika, and Karan who made my stay unforgettable.
Warm greetings everyone!
Mariusz Soltanifar
Hanze University of Applied Sciences