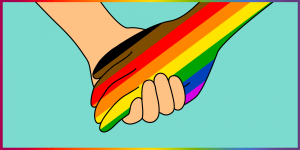 The 21st century has brought a lot of changes in the world, ranging from technology and science to reformation in societal norms and stigmas. The LGBTQ+ has been one such aspect that has created some stir worldwide. However, the LGBTQ+ community needs more and more allies to feel accepted and comfortable. Such allies can be instrumental in raising the effective and powerful voices for LGBTQ+ equality and aid them in coming out in their respective society and help others realize the vitality of equality and unbiased behavior for everyone regardless of their sexual orientation and/or gender identity.
Most of the LGBTQ+ community members decide to come out for the first time when they are in high school or university. There is no full-proof or single way to be a perfect ally, but one can practice the multiple ways to be a more supportive teacher, mentor, friend, parent, or colleague. You can start by being open to learn, listen and educate yourself, which involves knowing the difference between sex and gender and keep yourself updated on LGBTQ+-related news and issues. Secondly, you need to start speaking up or confronting people when you hear offensive or anti-LGBTQ+ comments and let your friends, family, and co-workers know that you find them offensive and degrading.
Thirdly, stop making assumptions that all your friends, co-workers, or relatives are straight as someone you know could be looking for some support in their coming-out process, and such assumptions can meddle with space and comfort they might have anticipated. Fourthly, understand that language matters, and if you're not sure of someone's pronoun or label, just ask them respectfully. And, lastly don't hesitate to apologize when you mess up or assume someone's sexual orientation and ask for guidance which will be appreciated.
In addition, being a good queer ally begins with taking a step back and listening to the people you want to help. The LGBTQ+ people are well aware of how to liberate themselves. Therefore, by truly centering their voices, the non-queer folks can provide an allyship that will have the power to promote real and lasting change.