The Global Pandemic may have sabotaged the dreams of most of the students, who wanted to study abroad, but here Indian Universities like IILM Undergraduate Business School is evolving to bring in the new culture and new learning formats to the door step of these young minds. Let's see how.
Institutes with collaboration with International Partners:
Indian Institutes that have partnership with Universities Overseas stand a better chance as what they offer is a Global Integrated Program from their own hinterlands.  IILM Undergraduate Business School has academic collaboration with many such academic partners and offer well curated educational curriculum to cater to the youth of today.
International Experience made affordable: Students seeking for Global Programs can pursue the same from the Indian Institutes at much affordable prices.
Global Transfers: Institutes with Global collaborations offer seamless transfers to global campuses for students to start their education in India and later be honored by an International Degree. At IILM, students have taken transfers in the Second/ Third year and have returned with an International degree in hand.
Accept Credit Transfer: Institutes with Global Partners accept credit transfers and prior learning assessments to smoothen the process of settling in the learning ecosystem.
Talent Pool: A Global Integrated Program brings along a talent pool of Indian and Global faculties having rich experience in terms of both academic and industry. At IILM varied foreign languages such as Spanish, French and German are offered to inculcate a global perspective in the learning process.
Peer to Peer learning: Transition from Guided Learning to Self Development formats. Institutes that offer Multiple Self Learning Programs through Certifications will be in demand. This will encourage skill development at the micro level. At IILM, several MOOC courses on platforms like Coursera, Edx, and Swayam are offered to encourage students towards self-development.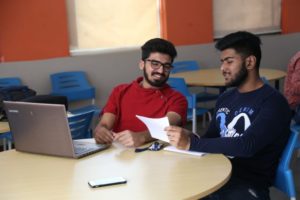 Real Time Course Curriculum: B- schools are already working on rejig of their academic programs as they believe that this pandemic has led to widespread disruptions across all functions of management. There has been immense learning from the current pandemic situation and the same needs to be incorporated into the teachings such as marketing during pandemic times, work from home HR policies, impact on economy, emergence of next Gen-C cohort group, Consumer 2.0 etc.
This post COVID world will open new wave in imparting higher education to the students. It will bring a new normal in the education field with emphasis on blended learning formats. IILM Undergraduate Business School is already restructuring and re-designing their teaching pedagogy for a better tomorrow.
Visit www.iilm.edu and apply now. Our admission counselors will contact you within 24 hours.