Keywords: Computer Aided Assessment, Formative Assessment, Online Assessment, Formative Feedback, E-learning

The role and scope of ICT (information and computing technology) expanded
mainly in 1990s and became a hot topic of research in education. The rationale given for using assessment through computers is that due to global development of online learning, online assessment should be used to complement it.
Computer-assisted assessment (CAA) is a broad term which describes the
application of computer technologies to the assessment process. This may include
a variety of activities which assess knowledge, understanding and skills using one
or more technologies such as the Internet, intranets, CD-ROM and optical data
capture systems.
Approaches to Computer Aided Assessment (CAA) can be divided in 2 systems:
1.  Automated marking of paper forms, using optical mark reader (OMR) e.g.,
CAT test for management courses, and
2.  Computerized marking in which questions are presented and responses
assessed entirely by the computer software, with no paper involved e.g.,
the online test and Quizzies.
CAA software can provide immediate supportive feedback for each question,
tailor the answer given, making this particularly suitable for informal self-
assessment and Formative Feedback by tutor. It is fundamentally useful in testing basic knowledge required in any subject like Terminology, and fundamental conceptual knowledge. There are a plethora of Assessment tools that can be used for assessing student's learning capacity and knowledge gained.
This blog is sharing the experience of designing and running of online quizz that I had made using the Question-Mark Perception software in collaboration with Nottingham Trend University UK.
I had applied it for Fashion UG students in Level 2 of studies where subject of Pattern Making was tested. MCQs were reinforcing their learning in conceptual way, as students tend to ignore it in a skill based subject. It was a five minutes short quizz with ten questions (pictures and visuals were also part of questions) though some students finished it in 3 minutes. The quiz gave me an option to save the questions online that could be used for future batches as well. Gradually a teacher can start making a "question pool" ready to be implemented as when needed in a very organized and quick way. It took me a few days to design, re-think, pilot run, and saving a final copy. Students could run it anytime and at their own place. 
Students's feedback was quite positive as the reult was immediatly sent to them as soon as they completed the test. The best part, as per student's perception, was that it was quick and took only few minutes. One of the important piont that was noted in  students' feedback was that they felt "Marking was fair".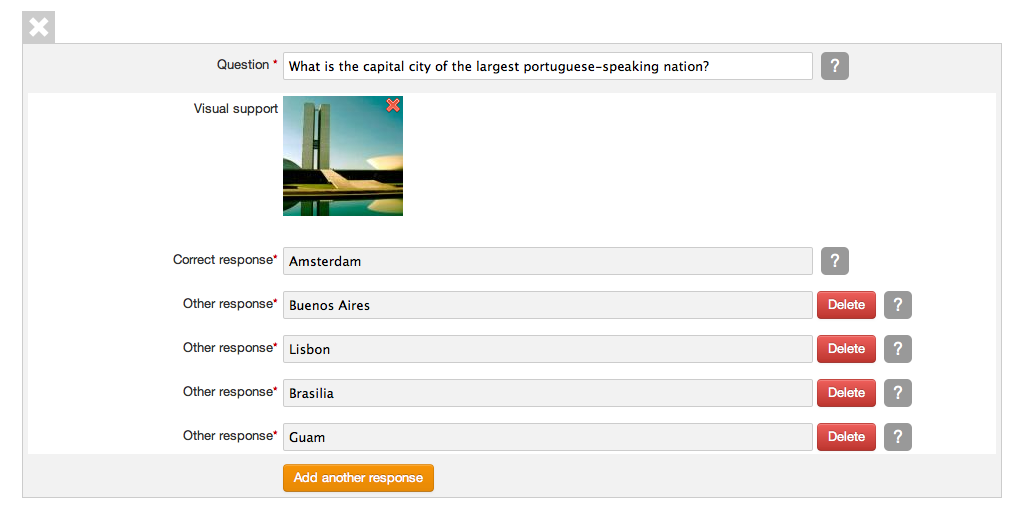 My perception of its pedagogical advantage as a Formative Assessment is
explained below with the help of following points, though some of them
came as realizations only after the execution:
 a. Testing the knowledge gained by setting significant milestones; and
the associated loopholes/gaps in the same before the summative
assessment. One of the learning outcomes of this module is to
acquire and apply basic knowledge of the subject.
 b. Informal, timely, appropriate and correct feedback for the test
taken.
 c. Easier method of record generation when used as a means of
assessment
 d. A means of supporting the administration part and tracking of
learning
 e. And, last but not the least, as a tool for learning information
management skills – how do you manage answering questions in the limited period?
The use of CAA in universities of UK and US is growing (McKenna, 2001)
and there are at least 3 reasons why we might want to introduce ICT-
based assessment:
To avoid disjunction between teaching and assessment modes with e-

based learning (a validity issue);

To save staff time in marking (an efficiency issue);

To enable formative feedback to students (a pedagogic issue)

–(Gipps, 2005, p. 173)
In the light of what is written by an author (Fellenz, 2006), and felt by many
others, assessment is not an end in itself but a vehicle for educational
improvement. We should be taking account of our learners' needs and design the
assessments accordingly. Also, we should be continuously recreating ourselves
and looking for new, innovative and challenging approaches for evaluation.
Hence, e-learning and CAA has an important role to play as an integral part in
today's educational scenario.
"E-Learning is fundamentally about learning and not about technology.
Strategic development of e-learning should be based on the needs and
demands of learners and the quality of their educational experience."
(Joint SFEFC/SHEFC e-Learning Group: Final Report 2003, p. 52).
In conclusion, I am of the view that technology, if used and understood from pedagogical point
of view, has a lot of potential and flexibility to offer in current scenario.
References:
1. GIPPS, C.V., 2005. "What is the role for ICT-based assessment in universities?"
Studies in Higher Education (Routledge, Taylor & Francis Group) [online]. 30 (2),
pp.171-180.
2. McKENNA, C., 2001. Introducing computers into the assessment process: what
is the impact upon academic practice? Paper presented at the Higher Education
Close Up Conference 2, Lancaster University, 16-18 July 2001. [Online]
Available from: http://www.leeds.ac.uk/educol/documents/00001805.htm
Website:
http://www.oecd.org/innovation/research/34899903.pdf