A designer is always faced with challenge of which fabric to use for which type of client and market. However, there is a new challenge – which fiber to choose depending on its carbon footprint?
If I am a conscious consumer, I am always looking for information on several aspects – where was my clothing made, who made it and is it Eco-friendly? The answers are not only diverse but difficult to understand by a common buyer. Reports are several and opinions are infinite. What can a common buyer trust?
First of all, consumers are not given all the facts by all the manufacturing companies. If you read about sustainability aspect of various fabrics, you will find many criticisms against cotton – both at the crop stage as well as at the manufacturing stage. There is the one most popular – it takes some 2000 gallons of water to make one T – shirt – which can easily make you think about the cotton choice.
Second is – It takes all these bad pesticides and fertilizers to grow cotton !
Third, and loved by western media is – Wages are below standards, sweatshops and wastage by cutting methods in manufacturing units (mostly these are based in Developing countries like India, Sri Lanka and Bangladesh).
For defending cotton's case I have a few arguments based upon data –
While people will tell you, cotton is water intensive and dependent on fertilizers, many would hide the fact that traditional method of cotton growing is totally sustainable. Cotton variety that are from ancient times, are still growing in India that use only rain water and animal manure. They don't use big machines like US farms and make it energy intensive. The variety like Kala cotton of Kutch, Gujrat is a hardy crop resistant to pests. These indigenous varieties were overtaken by Hybrid seeds (sold by US companies) in 1990s so as to see a decline in "Desi" variety cotton crops. the Monsanto US company seeds of Bt cotton has lead to numerous farmer suicide in Mahrashtra alone ( https://www.ecowatch.com/vandana-shiva-we-must-end-monsantos-colonization-its-enslavement-of-fa-1882075931.html). 
Compare this to Petroleum based fibres – Polyester and Acrylic – which are made from Petroleum! And, if anyone is interested, extracting petroleum from earth and making that liquid in fibre form is the most energy intensive and polluting operations on this planet. It releases CO2, Nitrogen Oxide and Sulphur Oxide that are Green House Gases (GHGs) which trap in the atmosphere and produce irreversible climatic conditions and temperature rise on planet. And, polyester is non-biodegradable, while cotton is biodegradable.
Polyester was discovered for making long filament fibres in 1941 in UK and it is produced mainly now in Europe (and India) as well. Compare it to cotton – It is grown in many Asian and African counties from time immemorial giving employment to millions of marginalized farmers whose livelihood will be suffering if we switch to man-made fabrics like Polyester and Acrylic. By default, these strains of cotton seeds have survived over centuries with farming methods adapted as per climatic conditions of that geographical region.
Polyester is made on power-based looms. While cotton can be made from hand operated looms. So, if you compare the sustainability index, hand-spun and hand-woven cotton fabric is far better than polyester fabric.
Cotton is a very good water and sweat absorber – it had good wicking property, so as to make it ideal for tropical climate where humidity and heat co-exist. Man made fabrics are not suitable for these climatic conditions. Whereas, polyester and acrylic are more suitable for cold climates and are non-porous; plus synthetic clothes dry faster in cold climates.
The man-made textiles are bleached, scoured and coloured using a lot of chemical (and only chemical) based processes that leave our water, air and soil totally polluted. But, natural fibres like cotton, hemp and linen can be dyed using natural ingredients that are plant and animal based – like leaves, flowers and tree bark. So, if I choose a polyester T – shirt (even if it is recycled polyester from water bottles), its manufacturing process and its chemical treatment process is very harmful for the environment.
The fact remains, if you choose synthetic fiber at the first stage i.e., at fiber stage, the next processes can only be synthetic. If you choose a natural fiber, its post yarn stage  processes have chances for natural treatments. The first choice will lead to wrong choices later, while the second choice will give you a chance for making less mistakes.
Cotton Farming in India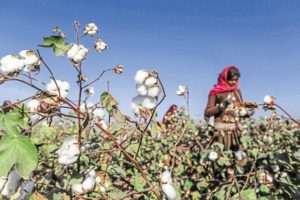 Cotton farming in US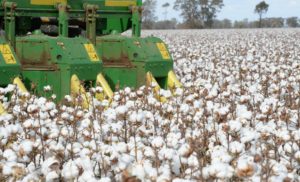 In conclusion, a designer should look at the full story to understand impacts of choosing a kind of clothing and home furnishing. If we are impressed with only one argument – cotton is water intensive – we would be overlooking various other aspects that make this fabric score better points in ecological footprints. Cotton and natural fabrics are suitable for humid climates and are skin friendly. Synthetic fibers are not skin friendly at all for Asian population. And, buying cotton from hand-loom industry, would be sustaining livelihood of millions of weavers, spinners and growers who have no other option available with them in villages.
Organic wool and cotton from "Desi" varieties are not talk of the western brands as they don't have the system to grow it in their history. We have it in our history and we are lucky that it has survived for future generation to take advantage of. In order to make brands organic fibre based, west will have to buy from us. And this would not be profitable for them.
So, next time you buy any apparel or home furnishing item see for three things –
Is it natural fibre or man-made synthetic fibre?
Is it made by local artisans on looms at home or made in on machines in a factory?
Is it dyed in chemical colours or is it dyed with natural dyes?
Conscious designers will lead to conscious consumers. The story should be not partial and one sided, story should be holistic and covering socio-economic aspects of designing a product as well.