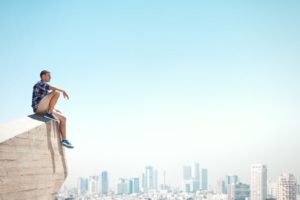 An upended day and a process lined up. Usual last-minute preparation with the students and there comes a question,
"Do I tell the recruiter that my dad is a business guy? He is never gonna hire me then"
A hiatus before I said "sure, you must say it out, how does that bump with your job"
"Just stay honest all of you"
"It's your intention which will reflect it all"
And the process started. An hour down Neha(name changed) comes, she looked edgy and was almost rushing to reach out to me.
Panting she said, " one problem, I am stuck, I told them during my internship I got a Health Insurance policy closed and the recruiter knows my Internship boss, it seemed they are great friends… he would know I have not… I have lost this job before getting one…"
Almost her fear translated into tears, "Stop, Breathe Hold.. you can't reverse this now, And we exchanged exactly this in the morning brief to stay authentic"
"And what do you wanna do now?"
"I don't know"
"Spell out, you lied"
She got the jilt "Whatttt??? It's killing, darn humiliating"
"So what? Fix it for yourself, correct it, clinch your brim chance"
In this while, she tried thinking that the probability of both the friends swapping conversation on her shall be 50% and hence she should work on that optimistic 50.
But in this entire adduce she lost her spunk and charm. The thought of not being bona fide took HER away from HERSELF
She lost the final round.. much higher COST to be forfeited.
Key Takeaways
-One fine day you have to be Honest only Honest
-Fear can only be a motivator if it is in the Right Route
See you Next!