IILM Institute of Higher Education organised its most coveted and flagship event: The Fifth International Conference on Sustainability from February 15th – 17th 2018. The theme of the conference was "Resolution to Resolve: Sustainability Practices in Industry and Education". Being a lifetime member of the UN Global Compact's PRME India Chapter and one of its champion business schools, IILM takes pride in hosting the event every year in association with UNGC, focussing on specific Sustainable Development Goals (SDGs) as outlined by UNGC. This year the emphasis was on SDG 4 and SDG 9 and accordingly, the sub-themes of the conference focussed on industry, infrastructure and innovation. The conference saw participation from eminent personalities from the industry, polity and academia. The conference this year coincided with the celebration of 25 years of IILM's contribution to responsible management education. To mark the silver jubilee year, a compendium of articles on sustainability in the form of an edited book, was released during the first day of the conference. There were total of 5 sessions spread over the three days of the conference.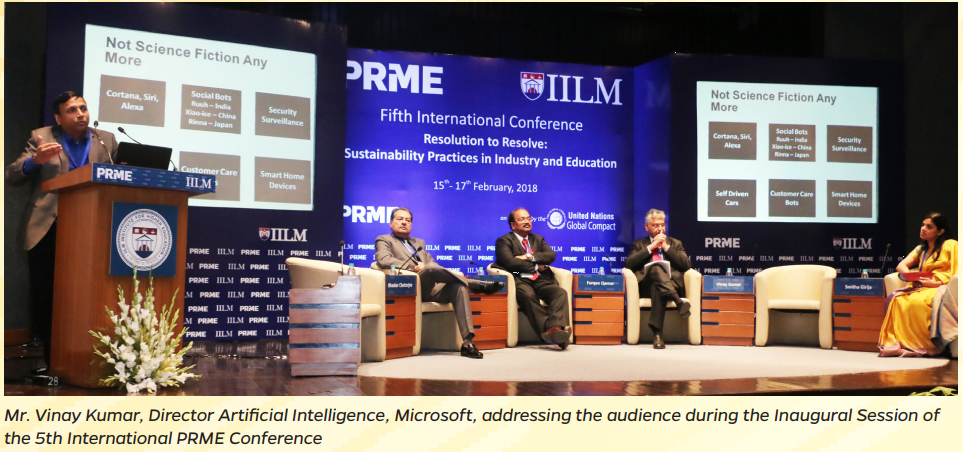 Day I : Inaugural Session
The conference started with the inaugural session, presided over by the Chief Guest, Prof. Furqan Qamar, Secretary General, Association of Indian Universities; Mr. R. Ramanan, Mission Director, Atal Innovation Mission, Niti Ayog, GOI; Mr. Vinay Kumar, Director Artificial Intelligence, Azure and Search Partnerships, Microsoft; Dr. Bhaskar Chatterjee, Senior Director, IILM, and Dr. Smitha Girija, Director, IILM. The welcome address was delivered by Dr. Bhaskar Chatterjee during which he welcomed the eminent speakers and the audience to this conference. He gave an overview of the three days to come and then invited the speakers to share their thoughts. Mr. Vinay Kumar addressed the gathering and highlighted the impact of Artificial Intelligence (AI) as the fourth industrial revolution. He touched upon the broader issues of job displacements, AI design principles, government policies and AI ethics as areas that need consideration. Mr. R. Ramanan shed light on various initiatives taken by Atal innovation mission at Niti Ayog including "Mentor India Network" and "Mentor of Change". Further, he stressed on the need for education to create innovative minds and job creators rather than only job seekers in the Indian context. The Chief Guest, Prof. Furqan Qamar, delivered the keynote address. He began his speech by quoting examples of how AI is eliminating repetitive jobsand how many current jobs will be taken up by machines in the near future. He specifically spoke about SDG 4 that focuses on quality education and further highlighted its critical aspects including access, equity, inclusion, quality of higher education and affordability.
This landmark event was set off with the release of IILM's flagship publication titled "Resolution to Resolve: Sustainability Practices in Industry and Education" (published by Bloomsbury). This book, with contributions from some of our nation's wellknown and eminent academicians, practitioners, authors and intellectuals, highlights the effective thoughts and ideas related to the SDGs mentioned above. This compilation of thoughtful and well researched contributions is not only a great value add to the gravitas of the event but is also a thought provoking platform for the ensuing discussions. The book has been edited by IILM faculty along with Dr. Bhaskar Chatterjee, Senior Director, IILM.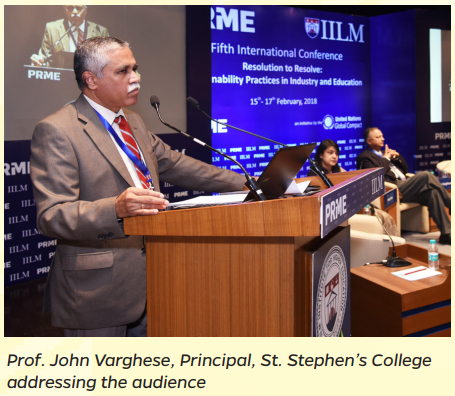 Day I: Panel Discussion On The Book : The book release during the inaugural session was followed by a panel discussion on the same topic moderated by Dr. Bhaskar Chatterjee during which Mr. Kamal Singh, Executive Director of UN Global Compact Network India; Dr. Sangeeta Mansur, Founder-Catalyst Bhairavi Business & Consultancy; Prof. Vivek Nagpal, Senior Consultant, MHRD; Mr. Rajeeb Kumar Debnath, Advisor PwC, and Mr. Sudarshan Rodriguez, Senior Programme Coordinator, Director's Office, Tata Institute of Social Sciences, enlightened the gathering on the subject. Each of them presented their contribution to the book and gave insights on its relevance in the context of current education and industrial set-up.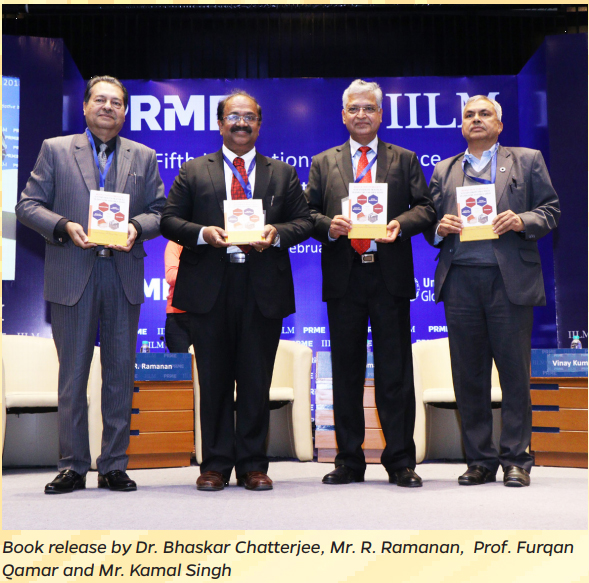 Day 1 of the conference concluded successfully leaving the audience eager for the forthcoming sessions.
Day II: Plenary Session I: "Laying the Foundation: Alignment of Management Education with Sustainability"
Day 2 of the conference commenced with the first plenary session on the topic "Laying the Foundation: Alignment of Management Education with Sustainability". Education has always been considered the foundation to bring any kind of reform and it is one of the most powerful and proven vehicles for achieving the Sustainable Development Goals (SDGs). The focus of this session was SDG 4, which aims to provide equal access to affordable vocational training, to eliminate gender and wealth disparities, and achieve universal access to quality education. Distinguished panellists for this session included Dr. Manoj Sinha, Principal Aryabhatta College, Delhi University; Mr. Siddharth Sibal, Vice President, Accenture, and Prof. John Varghese, Principal, St. Stephen's College. They highlighted the purpose of education as the vehicle to raise awareness and consciousness among people. Mr. Sibal also emphasised different innovative interventions such as solar coins, block chain technology, 3D printing to name a few, that are currently changing the way we live and consume.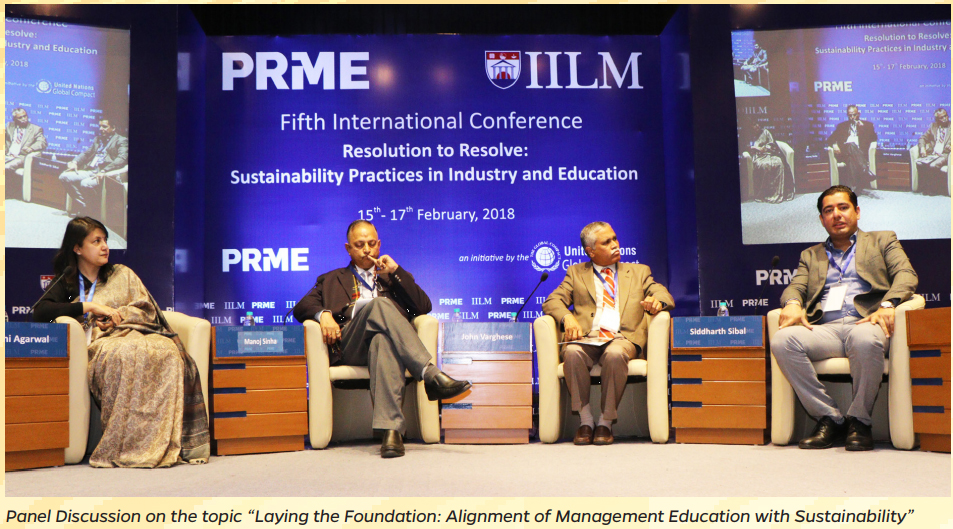 Day II: Plenary Session II: "Infrastructure through the Lens of Sustainability"
The second session on "Infrastructure through the Lens of Sustainability" revolved around the implementation of SDG 9 – to develop quality, reliable, sustainable, and resilient infrastructure, to support economic development and human well-being. This session empanelled Col. Prakash Tewari, Executive Director, CSR, DLF Foundation; Mr. Pranshu Gupta, Manager, Sustainability Services, Accenture Strategy; Mr. Ajay Tyagi, Managing Partner, Lex Terrae.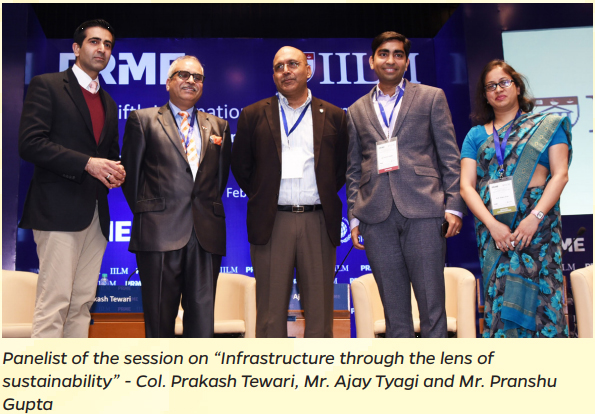 They underlined the importance of focusing on infrastructure for any of the other SDGs to become a success. They also highlighted the need for culturally and ecologically relevant technological interventions to solve the local infrastructural issues. Mr. Prakash Tiwari spoke about various initiatives by DLF for transforming Gurugram into a Smart City. He concluded with the quote – "the greatest threat to our planet is the belief that someone else will save it". Mr. Pranshu spoke about Earth Overshoot Day and how infrastructure can help in pushing that further if not eliminating it. He stressed upon 3 main aspects: Economic Prosperity, Quality of Life and Environmental Sustainability and discussed the Accenture – NASSCOM framework which consists of Physical, Social and Environment aspects to achieve true sustainability. Mr. Ajay Tyagi emphasised the importance of achieving sustainable development goals by building infrastructure that caters to the local needs rather than looking at some global initiatives and copying them. The session concluded with the idea that infrastructure must not only be for building smart cities but also for the rural sector.
Day II: Plenary Session III: "Innovation and Sustainable Competitive Advantage"
The third plenary session stressed upon Innovation as an imperative tool to foster sustainable development by solving existing problems and providing a new approach, a new perspective to look at things. The Panel Discussion on the topic "Laying the Foundation: Alignment of Management Education with Sustainability" session saw contributions from Dr. Shalini Lal, Founder Infinity OD, Innovation and Change; Mr. Ravi Chamria, CEO, Block Chain Enthusiast and Fintech Expert; Mr. Ravi Bhatnagar, Head External Affairs & Se Partnerships, Reckitt Benckiser and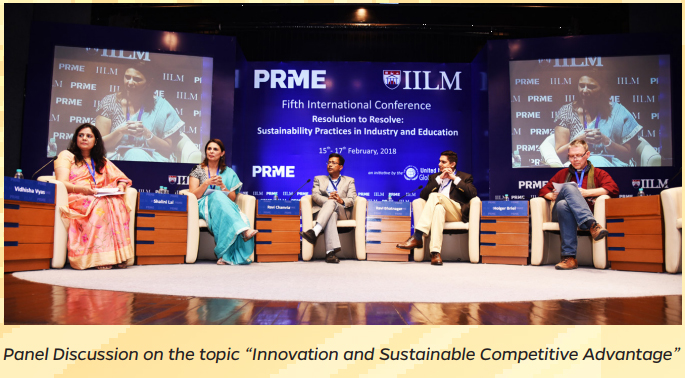 Prof. Holger Briel, Dean, Xi'an Jiaotong Liverpool University, China. Dr. Shalini spoke about the difference between Language of Management and Language of Innovation through various examples, highlighting the challenges that the language causes. Mr. Ravi Chamria expressed his views on the history of Blockchain, its types and largely its application as Cryptocurrency. He also stressed on the difference between Information Exchange and Value Exchange and the benefits of Blockchain technology as transparency and trust, immutability, complete authenticity, no intermediary and traceability. Mr. Ravi Bhatnagar expressed his thoughts through two quotes – "Reputation is synonymous to Innovation" and "Purpose first and then Business". He delved into the concept of Innovation Pipeline. As an advice to budding managers, he mentioned that there is greater learning in one year in a renowned company as compared to spending 2 to 3 years in a normal company that does not focus on innovation. The session ended with Prof. Holger Briel addressing the audience about the living standards, co-working styles, co-working spaces, political potentials in different geographical settings.
DAY II: PLENARY SESSION IV: "Sustainability Practices and Quality Education"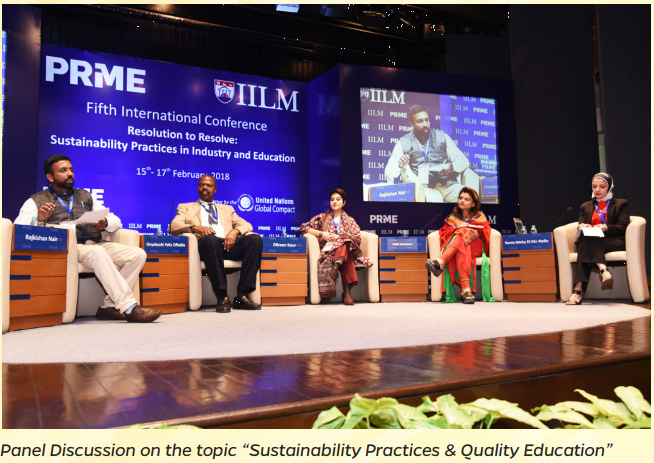 The fourth session focussed on SDG 4: The quality of education, i.e. to ensure inclusive and quality education to all and promote life-long learning. The first panellist Dr. Onyebuchi Felix Offodile underscored the ability of the Earth to renew itself, provided the right circumstances are created. He urged the audience that it is our responsibility to facilitate the renewal of our Earth and stressed that education plays a vital role in achieving this sustainability goal by inculcating the right values in our youth. Ms. Dilreen Kaur, the director of the renowned non-profit organization "Ritanjli" began her interaction with an energetic engagement that rejuvenated the audience or rather "created a thunder storm" as she called it. Her passion for fighting against gender inequality, domestic violence, misogyny and patriarchal norms was prominently visible when she narrated the story of people whom her organization has helped. Ms. Nidhi Shrivastava began her address by listing the four stakeholders of education – students, teachers, management, and the society. She pointed out the fact that the focus of education should be on creating job producers rather than job-seekers. Dr. Rania Mohy El-Din Nafie focused her discussion on the role of innovation in education. She elaborated the importance of reducing carbon footprints, and increasing transparency in the education system. She also expounded on Albert Einstein's famous quote "Education is not the learning of facts but the training of minds to think."
Day III: Plenary Session V: "Sustainability Footprints of Industry"
Day 3, on Feb 17, 2018 commenced with Session 5 on "Sustainability Footprints of Industry" exploring why industries must strive to become sustainable in a true sense by addressing the three pillars of sustainability – economic, social, and environmental – simultaneously. Ms. Jasmine Saini, Head Business Synergy, ITC Hotels and FMCG (Foods) Business; Ms. Sapna Gupta, Solutions Architect , NIIT; Ms. Deepti Rastogi, Director TMF Group; Mr. Gagan Sardana, Super Banker HDFC, all proud alumni of IILM, shared their views on this subject. Ms. Jasmine Saini spoke about sustainability in the industry and briefed the audience about ITC as a company of innovation and sustainability.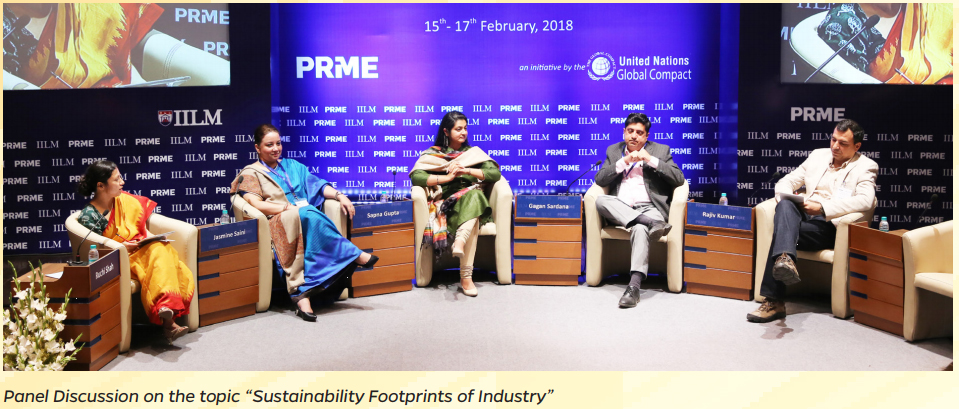 Ms. Sapna Gupta stressed the need to give back to the society. She highlighted the initiative "Hole in the Wall" undertaken by NIIT and underlined that sustainable growth comes from long term relationships. Mr. Gagan Sardana began with his journey at IILM. He spoke about how sustainability helps businesses to achieve their objectives and shared various initiatives by HDFC to promote financial literacy in rural areas, including "Parivartan" an initiative for rural development focusing on sustainability through CSR. Mr. Rajiv Kumar focussed on sustainability in the FMCG industry. With the words "to sustain is to Innovate" he opined that in FMCG industry, one must understand the culture & other dynamics.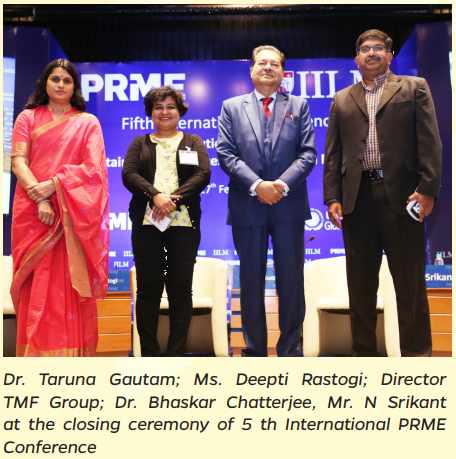 Day III: Closing Plenary The closing plenary consisted of alumni from the first batch of IILM, Ms. Deepti Rastogi, Director TMF Group and Mr. N. Srikant, HR Partner & Executive VP, IndusInd Bank, who shared their journey from campus to corporate and gave tips to the students to better prepare them for the future. The conference concluded with closing remarks by Dr. Bhaskar Chatterjee, Senior Director, IILM. He summarised the learning from the various sessions on all three days of the conference highlighting simultaneously steps that IILM has taken so far to uphold the message of responsible management education. The 5 th IILM PRME international conference was a great success and provided a platform for industry experts, diplomats and academicians from different parts of the world to interact and debate on aspects of Sustainability and Innovation that are extremely important drivers of responsible management in the current business context.