B. Com (Hons.) has always been an obvious choice for the XII class Commerce students. Moreover, students from Arts and Science have also taken up this course as an entry to the world of Commerce.
However, with the advent of Liberal Education, the scope of B. Com (Hons.) has further enhanced.
A student who takes up B. Com. (Hons.) programme at a Liberal Education university gets access to applied knowledge on new age concepts like Fintech, Environmental Accounting, Bitcoin and Blockchain. The programe also acts as a preparation ground for education avenues like CA/ CMA/ CS.
Moreover, the students can also opt for foreign education by way of Global Trek and get prepared for Higher Education options in a country of their choice. There is also the additional benefit of 6-8 weeks' Summer Internship after the second year of graduation to make the students job ready and future-prepared. The programme also prepares the students to be well-equipped for areas like Financial Analysis, Stock Markets/ Financial Markets, Portfolio Analysis, Banking & Insurance.
Last but not the least, the students may also choose from a wide variety of electives like International Financial Reporting, Environmental Accounting & Reporting, Tax Planning, Risk & Insurance Management, International Finance, Financial Services & Capital Markets etc.
With access to such diverse areas of knowledge and increasing avenues for higher education, entrepreneurship and job prospects, B. Com (Hons.) with Liberal Education is certainly the right recipe for success.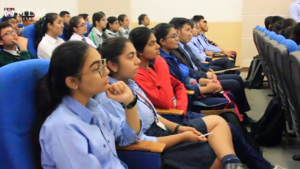 Commerce students listening to Corporate Accounts & Finance professionals like Mr. Ashish Tiwari, Group CFO, TCI Ltd; Mr. Jayant Chandra, Manager RAC, PwC;  Mr. PreetKamal Singh Sodhi, AVP, ICICI Securities; Mr. Ravi Shingari, Group Head, Taxation & Accounts, Apollo Tyres Ltd and Mr. Siddhartha Khaitan, Finance Director, Mc Cormick Kohinoor India at the Round Table Conference at IILM University, Gurugram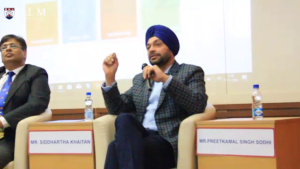 Mr. PreetKamal Singh Sodhi, AVP, ICICI Securities & Mr. Siddhartha Khaitan, Finance Director, Mc Cormick Kohinoor India addressing the Commerce students at the Round Table Conference at IILM University, Gurugram