Introduction
Today's disruptive changes have made Psychology one of the most sought-after careers. The demand and supply chain in Psychology will help overcome obstacles in personal and professional lives in the future. Our fast-paced lives, demanding jobs and complicated family dynamics are making mental health a prime issue of survival in the 21st century.
Countries across the globe are looking at making mental health equally imperative and vital as physical health. Therefore, the role of psychologists in future will become as crucial as our medical workers. Simply put, we may take medicine for any physiological ailment, but what about societal, global pressures coupled with tragedies? There is no known medicine to handle all that, hence Psychology becomes crucial as a subject to be pursued.
Psychology as a subject and its specializations
Psychology has been an undercurrent in any field offering a myriad of opportunities. IILM University, which is considered one of the best colleges in Delhi/NCR for Psychology provides components of the following in the course as fusion in undergraduate as well as specialization in masters.
Clinical Psychology: Anyone who has been a student of Psychology has been amazed by abnormal psychology and at least once aspired to become a clinical Psychologist. Facets such as diagnosis, understanding and management of disorders while working in hospitals, rehabilitation centres come under this. Given the emotional pressures people go through, the demand for good clinical psychologists is expected to rise. We hear and see many celebrities openly discussing their mental health and concerns. This trend has increased awareness and acceptance towards disorders and with time the need for experts in clinical psychology is only expected to grow.
Counselling Psychology: Counselling is like a second skin to any Psychologist as it deals with facing day-to-day scenarios and its management. Counselling being a broader term branch into career guidance, marital and academic. Counselling Psychologists are seen working in private set-ups, career centres, schools, NGOs and organizations. Today, it is required across all walks of life, and the need for it will only continue to grow. At IILM, we invite guest lectures as well as electives in CBT/REBT for Psychology students.
Organizational/Industrial Psychology: Psychologists in this field focus on workplace issues at the individual, group and organizational levels to enhance the productivity of the employees and ultimately the organization. As more and more MNC's are paying attention to the mental health of their employees, Psychologists with I/OB specialization are working in HR as consultants/managers and are assessing emotional, social intelligence and performance in the employees.
Developmental/Child Psychology: This field works with lifetime development of human beings focusing on psychomotor, cognitive, as well as emotional development from early years. Popularly known as Child Psychologists they work mainly with children in therapy centres, schools, paediatric setups, NGO's with close association with special educators and psychiatrists.
Sports Psychology: This is a fairly new branch that works with athletes' physical and cognitive performance along with coaches, nutritionists as well as physiotherapists. Sports Psychologists endeavours to help sports teams to increase performance and motivation of sportsmen. India being a sports passionate country, this field has a lot of scope as a career.
Forensic Psychology: This branch deals with legal and judicial systems and is closely related to criminology. At IILM we help B.A students, enhance their understanding of laws in India while offering Law as an elective course.
Military Psychology: This is yet another contemporary branch of specialization dealing with military personnel and their families. Concerns such as depression, anxiety, grief as well as stress-related issues are taken care of by evaluations and treatment of mental and emotional disorders along with counselling. Psychologists are routinely hired in forces and are doing extensive research and policy-related work.
How to pursue Psychology as a budding career?
In India, we can pursue Psychology from graduation level (Psychology as a subject in Class XI & XII is preferred) and then pursue a B.A. / B.Sc. programme in Psychology. Master's programme in Psychology is mandatory for seeking a career as a Counsellor as well as to apply for a job. M.Phil. is important to practice as a clinical psychologist and may accompany it with diploma courses in any therapeutic work (cognitive behaviour, rational emotive, career guidance, etc.) IILM University offers BA (Hons) as well as MA Psychology with specialization in counselling and organization behaviour.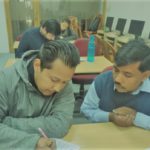 Conclusion
Psychology as science finds applications in all walks of life. Psychology presents immense career options in the present times and will hold promising opportunities in the future as well.
"The best way to predict your future is to create it"
Abraham Lincoln