After completing his Bachelor of Science from Mahatma Jyotiba Phule (MJP) Rohilkhand University, a young lad stepped out of his hometown Bareilly to fulfill his dreams in the Millennium City of Gurugram. A career-ambitious student, he landed at IILM to pursue a career in management. Meet Satyaveer Pal, Regional Manager – Sales (International Business), Aurionpro, Gurugram, an alumnus of Batch 2006-2008. His work takes him to places, literally. He has extensively traveled to Europe and the APAC and South Asia region, particularly Sri Lanka, Singapore, Malaysia, Thailand, Philippines and Nepal where majority of his clients are based. His last International visit was to Indonesia and Vietnam in February 2020, just before the national lockdown.
I had the opportunity to speak with him recently, and he was reminiscing his experiences at IILM during his stay at the campus. Considered as a studious person, he was the CR (student Class Representative) for two consecutive years, and this helped him tremendously in improving his interpersonal skills and leadership qualities. His favorite faculty was the marketing professor, Dr. Priyanka Dhingra whose lessons in sales and marketing were a lifelong learning for him. Giving presentations, participating in quizzes and class exercises are among his best memories at the campus. He fondly recalled an instance when he had to make a sales presentation where he came up with an innovative idea of marketing and branding of pens. This activity – based classroom pedagogy made him realize that marketing was where his career lay, and today business development has become his forte.
IILM gave Satyaveer learning both inside the classroom and outside. He learnt how to respond and gauge behavior of other people. He acquired networking skills and learnt how to brand oneself. This learning has taken him to the pinnacles of success.
He got an opportunity to do his summer internship at Shoppers Stop Gurugram, and he was also part of a new outlet opening in New Delhi where he helped Shoppers Stop in setting up their retail business from the scratch. He gained hands-on experience during his SIP and developed a multidimensional approach to handling problems. He believes those students who do not take their SIP seriously are the ones who loose out on good placements later.
Satyaveer feels that he not just gained academic knowledge at IILM but also the soft skills that are required to be successful in the corporate world.
As he was an outstation student, Satyaveer stayed at IILM boys' hostel, and that was a wonderful experience for him. He learnt to become independent and gained friends for life. He cherishes the memories of playing cricket after classes in the campus grounds, going around in the local markets and malls of Gurugram, and chit-chatting with his hostel roommates till late night.
It is such a pleasure to have an alumnus as Satyaveer. His colleagues praise him unabashedly. I was going through some of the recommendations he received on LinkedIn and my heart swelled in pride. Considered as a good task master and team player, his peers and managers hold a remarkably high opinion of Satyaveer. According to them, he comes with a very infectious sort of energy; always warm and outwardly sociable, he gets along with people very easily. He is good at making new connections and is the live wire of every conversation.
He is still in touch with his faculty, Dr Radhika Madan and Dr Sujata Shahi, presently the Vice-Chancellor of IILM University. He has had positive interactions with them in the past and due to these, he has retained the connect with his Alma mater. Dr Radhika had in fact taught him and still considers him as one of her brightest students taught till date. She has seen Satyaveer grow in his career path over the years. A very vigorous person with a clear vision, she feels that he knows how to co-ordinate assignments and the workforce he deals with. She has found him to be a very dedicated and committed person who strives to achieve his goals with full commitment and sincerity. His positive approach to all his challenges is what differentiates him from other students.
In the past twelve years of graduating from IILM, he has earned the reputation of an enterprise leader with an excellent track record of contributions that streamline operations, invigorate businesses, heighten productivity and develop business strategies.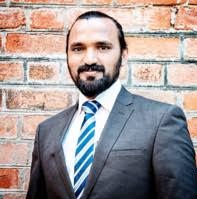 He visits IILM Gurugram once in two months – either as an industry speaker to share his insights with the present batches, or as a jury member for a campus event – contributing in every possible way. He has also recommended several students for taking admissions in MBA, the flagship programme of IILM University Gurugram. One of the most connected alumni to his alma mater, he takes out time from his busy schedule whenever IILM requires his presence.
He is currently residing in the corporate hub of Gurugram with his parents, wife Abha and a three – year old son Arkin. On being asked, how did his stay at IILM impact his career, he proudly said, "Whatever I am is all because of IILM."