As Gurgaon has grown into a major corporate and financial centre, the city has also emerged as a hub for quality BBA education, with many excellent colleges opening up to meet the rising demand. However, when one evaluates these institutes on parameters like industry-relevant curriculum, corporate partnerships, campus infrastructure, faculty expertise and career support systems, one institute stands tall above its peers in Gurgaon. In this blog, we take a comprehensive look at the various aspects- from academics to extracurricular activities to placement records, that make IILM Institute the premier #1 destination for pursuing the Bachelor of Business Administration program in the Millennium City.
IILM's faculty includes PhDs from top institutions. Famous academics and industry leaders use case studies, simulations, role plays, etc. to provide students an excellent learning experience. Industry connections and research supplement classroom instruction with practical views.
Why IILM is the Best BBA College in Gurgaon

With Gurgaon emerging as a central corporate hub, the city today boasts some of the best BBA colleges in India. However, when it comes to providing an industry-relevant curriculum, strong corporate linkages, state-of-the-art infrastructure, distinguished faculty, vibrant student life and stellar placement support, very few compare to IILM Institute for Higher Education. This blog details the factors that make IILM Gurgaon the premier destination for pursuing the BBA program.
1.

    
Industry-Relevant Curriculum
IILM's BBA programme considers business change. Recruiters emphasise the programme's teaching of communication, analytical thinking, problem-solving, leadership, and collaboration. Subjects like Organizational Behavior, Business Communication, Financial Accounting, Marketing Management, and Business Analytics have been specially included based on insights and recommendations from leading corporations.
2.

    
Strong Industry Linkages
IILM has established partnerships with over 300 leading corporates across diverse sectors who provide internships, conduct guest lectures, workshops & seminars, and actively recruit students for entry-level jobs and management trainee roles. Some major companies that IILM students intern and get placed at include KPMG, EY, Deloitte, Infosys, Concentrix, Star TV, HDFC Bank, and Tata Motors, among many others. 
3.

    
Dedicated Placement Support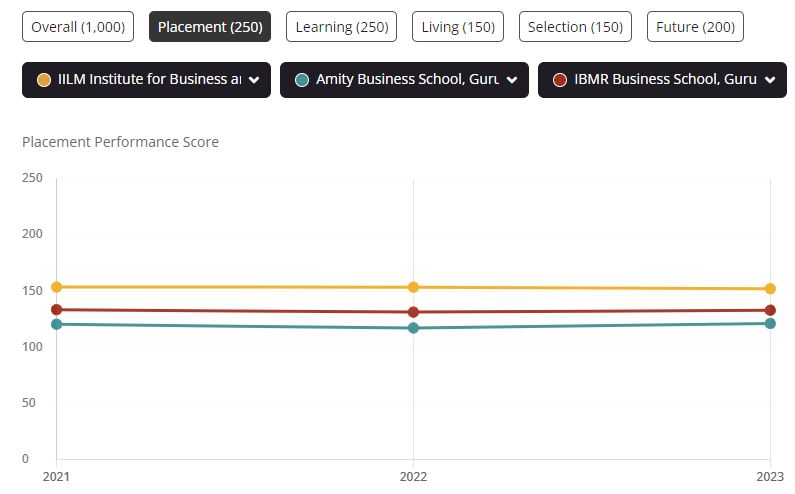 Right from resume-building workshops to mock interviews and aptitude test preparation, IILM's robust placement cell provides end-to-end assistance to BBA students. It also conducts pre-placement training and grooming sessions to help students successfully crack written tests and face personal interviews with confidence. The placement cell regularly tracks industry trends and feedback to equip students accordingly.
4.

    
Merit-based Scholarships
IILM offers merit-based scholarships up to 100% of tuition fees to deserving students based on their class 12th percentage. There are also exclusive scholarships for talented sports achievers at national/state levels. The scholarships aim to provide financial aid and encourage meritorious students to opt for BBA.
5.

    
World-Class Campus Infrastructure
Spread over 3 acres, IILM's sprawling Gurgaon campus offers world-class academic and hostel facilities fitted with all modern amenities. These include air-conditioned classrooms equipped with LCD projectors, a well-stocked library, computer labs with the latest software, a full wi-fi enabled campus, a well-equipped gymnasium and indoor sports complex, a hygienic cafeteria, 24×7 security and regular maintenance.
6.

    
Experienced Faculty
IILM has a team of highly qualified faculty members with strong academic credentials, including PhDs from reputed universities. The faculty comprises a mix of renowned academicians and accomplished industry experts who adopt a blended teaching approach using case studies, simulations, role plays, etc., to provide an exceptional learning experience to students. Their industry connections and research work enrich classroom learning with practical perspectives.
7.

    
Vibrant Student Life
With over 15 student-run clubs catering to a wide range of interests, BBA students at IILM Gurgaon find ample opportunities to pursue their diverse passions, build important leadership skills and gain organisational experience. The various clubs focus on domains like finance, marketing, human resources, entrepreneurship, sports, performing arts, photography, arts & crafts, debate, creative writing etc. These clubs are completely driven by student teams under faculty mentorship.
8.

    
Successful Alumni Network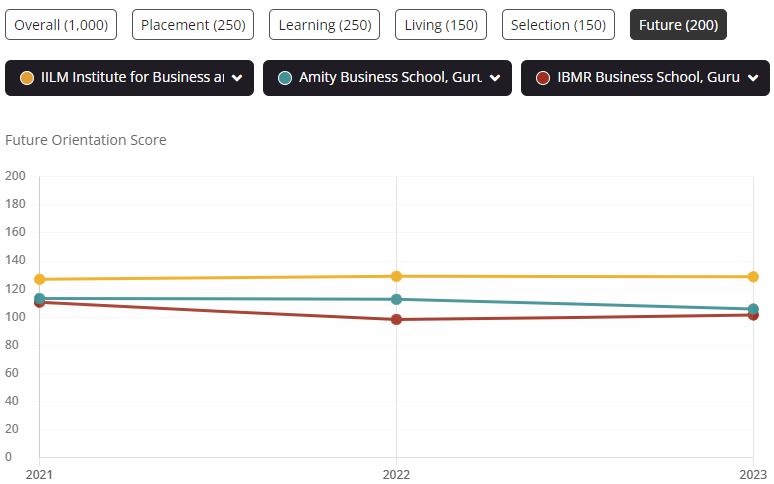 IILM BBA graduates become part of a 15,000+ strong alumni network, which has professionals working across the globe in leadership roles in top corporates like Google, Microsoft, Samsung, Flipkart, Airtel, Tech Mahindra and many more. The alumni actively provide mentoring support and career guidance to existing students.
Conclusion
Regarding industry-relevant curriculum, emphasis on practical learning, distinguished faculty, state-of-the-art facilities, vibrant student life and extensive career support, only some BBA colleges in Gurgaon can match up to IILM Institute. This is reflected consistently in IILM's rankings among the top BBA colleges year-on-year by leading surveys like Outlook, Business Today, The Week, etc. 
So, if you are looking for the best launchpad to build a successful management career, the Best BBA colleges in Gurgaon deserve your serious consideration.