In order to reward  all rounders and provide them with an International Exposure, IILM sponsored top 25 % of the 2014-16 batch for an exchange semester to our partner Institutions across the globe.
Sharing the experience of one of our student groups who are studying at Burgundy School of Business, Dijon, France
………………………………………………………………………………………………………………………………………………………………………..
From New Delhi to Paris
Beginning from New Delhi Airport, we all were bright eyed and bushy tailed for what was coming forth and a bit sad for leaving home for a long time.
Backpacks, strollers, headphones, music, excitement, tire complementing each other was our journey to the Charles de Gaulle airport in Paris. Dijon was still a long way to go, ready to leave from Gare de Lyon train station at Paris, we gained possession of our seats in TGV, the fastest bullet train in France and in a blink of an eye we reached Dijon.
@My ESC
ESC Dijon- our IILM in France, organized an induction week for all the International Degree Seeking and Exchange Students. It was a diverse group of students from USA, China, Mexico, Germany, Switzerland, Italy, Czech Republic etc. Beginning from a brief about ESC by the Dean of International Office Relations Mrs. Marie Jose ALBERT-BATT, followed by Rules & Regulations, Assessments and other academic concerns at ESC.
Student life Abroad
There is a big difference in staying home and staying abroad. At home we get everything what we desire, Staying in Dijon was a completely different scenario. We cook, clean, wash, launder, buy groceries, household items, utensils almost everything what we never did at home. Quite unusual but a new learning experience for all of us. Parallel to this we have to manage our studies too which all in all becomes tiresome.
Beginning of the Course
The first session at ESC was of Corporate Governance, which was conducted by the most cheerful professor Mr. Emmanuel ZENOU. We were divided into groups for our final report. The subject involved studies about corporate laws, descriptive and cognitive views of a board, shareholders, board of directors, experimental investigation, independent director, regulations, supervisory board etc.
The other session was of Business Ethics which was conducted by Professor Shahar AYAL and Shalvi SHAUL who were invited from Amsterdam. The two professors delivered lectures about their research on ethics followed by videos and games which can even be used in any Business.
Lectures for each session lasted for 2 hours for which we are not habitual, a 20 minutes break was given after every session. The timings for our sessions were 8:00 am and it was very hard for us to get to the classes in the unfriendly cold mornings.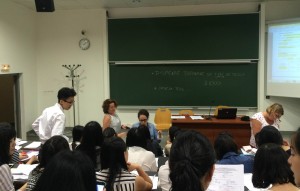 French food and Wine Experience
The French cooks are one of the best cooks in the world, but the French food wasn't that tempting to us as the Indian food is.
French food includes mainly Sea food, Beef, Pork, Chicken, Pizzas, Pasta, and Breads etc. Spices and Salt are absent in the French food which forced us to cook food ourselves. The Wines from Burgundy, Chateaux and Bordeaux are very popular in France and sometimes there are fests at the hypermarkets for the promotion of wines.
First Exam and Project
Our assessment for Corporate Governance was divided into 2 parts, one was a written exam and the other was an Experimental Investigation & Project.
The Experimental Investigation was something which none of us had done before, we had to compose a board on the basis of Age, Gender, Experience, Nationality and Educational Qualification which was based on a case study within a defined time and the top 10 students would be awarded with 20 Euros each. The written exam had 4 questions based on the lectures delivered and the project was to prepare a Board diversity considering various factors and raising a question as how a particular factor influence a board diversity.
New Courses
In the following week of our first exam, new courses Managing Diversity and International Marketing Management were introduced.
Managing Diversity is delivered by Professor Sabine MUELLER, which involves various group activities, play and a few exercises to separate us from drowsiness as our class is in the morning 8:00 am on Mondays. This course teaches about managing a diverse group in an organization, company, schools etc. and is taught by various video clips, discussions, guest lecturers.
International Marketing Management is delivered by Professor Mathieu Claude CHABOUD, which involves basics of marketing and its impact in international context i.e. from marketing to international marketing, explains the major difference between International marketing & Global marketing.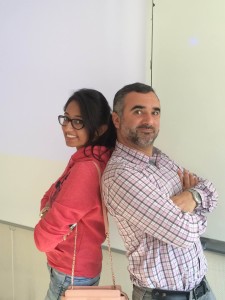 A weekend in Paris
The following week was the same as the previous, classes from morning to evening was very tiring for us and we decided to visit the capital city Paris and Disneyland.
From Dijon Gare to Paris Gare de Lyon, the journey was short and the TGV was too fast. The first evening we went to see one of the most famous attractions in the world, the symbol of Paris, "Eiffel Tower". The view from the top of the Tower is one of the most spectacular views, located at the side of river Seine, the Eiffel Tower stands 324m high and looks astounding at night.
The very next day we went to a whole new world, "Disneyland", the characters and cartoons we saw in our childhood were now standing in front of us, shaking hands, clicking pictures, dancing and running etc. The Disneyland Park was a home to bumpy rides, roller coasters, gigantic castles, Mickey Mouse's shows, restaurants and cafes etc.
Catacombs of Paris, an underground museum which holds the remains of around 6 million miners was one of the most thrilling places. Our visit to the catacombs was unforgettable and the place is one of a kind.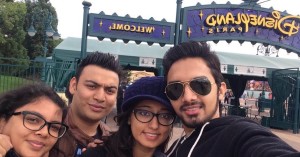 We  are very excited and look forward to each day as anew experience. We thank IILM immensely for gifting us the best time of our lives !!
-Karandeep Suri (PGDM 2014-16)