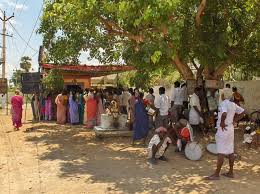 People in rural India are spending more than those in urban areas, according to a study by Accenture, a multinational management consulting, technology services. Rural markets are becoming attractive for a number of reasons. Since 2000, per capita Gross Domestic Product has grown faster in India's rural areas than in its urban centres.Rural incomes are growing, and consumers are buying discretionary goods and lifestyle products, including mobile phones, television sets and two-wheelers.
The boon of the Green Revolution combined with government initiatives such as subsidies, loan waivers, minimum support prices (MSP) and employment schemes (MGREGS) have caused an increase in purchasing power.
A staggering 12 per cent of the world's population resides in India's rural areas. There is no question that India's rural markets have become a powerful economic engine. The rural multiplier effect is what excites policy-makers and business leaders alike. For every new opportunity for a villager to use his mobile phone to protect his crops, there is a knock-on opportunity for him to purchase a small refrigerator or a motorcycle.
The rush to rural markets is not a recent phenomenon and companies have been testing these markets for some time.Successful companies, have used innovative techniques to reach the rural consumers and scale operations profitably.Those Companies that have seen rural markets as just an extension of their Urban markets have not been able to succeed much.
While companies have realized that rural markets offer significant growth opportunity, a
large proportion have remained unsure of the profitability.There are certain deterrents that slow down firms undertaking ventures to tap rural markets.
Rural consumers have diverse, specialized needs and preferences. To acquire these
customers, businesses must understand the cultural, economic and demographic dimensions that define them. Organizations often make the mistake of treating rural
consumers as a homogeneous market and offer them the same value proposition they offer to urban markets.
Given the strong social fabric in rural areas and the pivotal role that fabric plays in influencing purchase decisions, companies must integrate into it. Only then can
they successfully promote their products and establish credibility.The biggest mistake is to consider the entry into rural markets a natural expansion of the existing urban markets.
The requirement of the rural people is significantly different from that of the urban areas, owing to varied demographic, social, economic and psychological environments. Thus the market offerings have to be suitably modified to meet the exact requirements of the rural consumers.
Purchases in rural India are meant for consumption by the entire family as opposed to individual preferences. In this scenario, it is essential that products are developed such that they are fit for general purpose by all the members. This results in loss of opportunities for firms that gain by customization. Thoughtful consideration to all these factors is essential to make a mark on the rural audience.
Marketers are often unable to obtain a true picture of the needs and wants of the rural people due to difficulties in conducting market research. Wide geographical spread and vast variation in languages increase the time and costs involved.
The economic, demographic and cultural drivers that are shaping India's rural market
call for innovative strategies and capabilities. Companies are experimenting with different sales and distribution models to position themselves for the long term. But the results have been mixed, and companies face numerous barriers to efficient sales and distribution.Although many companies are still unsure about how to scale their rural operations, they remain optimistic about the opportunity.
Successful companies use detailed market scanning and segmentation to understand segment specific nuances and prioritize the best opportunities.Adopting a variable cost model at the outset gives them the flexibility to change course easily if their current approach does not yield desired results.
For companies looking to tap this market, the 4P's of the Marketing mix have given way to the 4 A's of Rural Market Mix: Affordability, Awareness, Availability and Acceptability.
Affordability Companies need to be able to deliver offerings at a price point that enables consumption by even the poorest consumers.The extent to which consumers and others in the value chain are willing to consume, distribute or sell a product or service relates to Acceptability.Availability is the extent to which customers are able to readily acquire and use a product or service.A new 'how' is Awareness with many Rural
customers largely inaccessible to conventional advertising media, building awareness can be a significant challenge for companies wishing to serve low-income consumers in the developing world.
Notable among the specialized rural initiatives in the Indian market include Project Shakti by HUL, Gaon Chalo by Tata Global Beverages, e-Choupal by ITC,Arogya Parivar by Novartis,Sampoorna TV by LG, TVS motors, Chotu Kool by Godrej.These companies have significantly increased their rural presence through these models.
To conclude,the unique challenges and circumstances defining India's rural markets will continue to evolve. Thus, in the coming years, companies will adopt yet additional approaches to reaching, acquiring and retaining India's rural consumers. They will need innovative models to harness this opportunity in ways that protect their margins while growing revenue in the face of constant change.
Ms.Devika Sharma