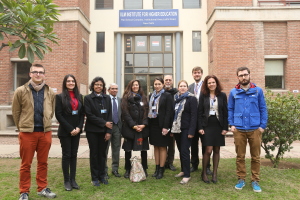 The International Partners Meet held at IILM, from the 7th-10th of January 2015, was a great platform to interact and network with IILM's partner's spread across several countries. Our partner's from across international boundaries participated enthusiastically and expressed their intent to attend the event annually.
The first day began with a traditional Indian welcome followed by a special session on the evolution and insight into the sphere of Education from the Indian and Global perspectives. These sessions were delivered by Mr. Arun Kapoor (Director, Vasant Valley School) and Ms. Shobha Mishra Gosh (Sr. Director, FICCI Higher Education). The partner's got an opportunity to meet with the Management of IILM and network with each other.
The partner's also attended the 2 day PRME Conference held at the IILM Lodhi Road campus and also had the opportunity to interact with the participants and faculty who were attending the IILM International Short Term Programme University of Technology Sydney, Australia and Queensland University of Technology Queensland, Australia from the recent Short Term Program being held at IILM. The International Short Term Programmes have been highly appreciated by many of our partner's
The feedback received by the partner's was truly overwhelming. Ilse Kuijpers from HZ University of Applied Sciences stated "It was my first time in India and I was very well pampered and taken care of at IILM. I look forward to come back". While Alain Ouvrieu from Ecole De Management Normandie, said that "This was the most hassle-free trip ever!"
The partner's got a splash of flavors from the Indian sub-continent through their visit to Kingdom of Dreams where they got to watch the Bollywood inspired performance, 'Zangoora'. Exploratory excursions around Delhi and Agra was highly appreciated by the partner's. The trip to Delhi covered visits to Qutab Minar, India Gate, Red Fort and finally Delhi Haat. Of course a trip to India would not be complete without a trip to the Taj Mahal. The partner's were captivated by the beauty of the man-made monument!
We thank our partners for their participation and look forward to more of such opportunities to network with each other. Special thanks to those who could make it from:
• Ecole De Management Normandie, France
• Burgundy School of Business, France
• HZ University of Applied Sciences, Netherlands
• Geneva Business School, Switzerland
• ISM Germany
• SolBridge International School of Business, South Korea
Beyond everything else, the Partner's and those at IILM established a special bond leaving behind memories to be cherished for a lifetime…until next time!