Western Indian region of Kutchch in Gujarat State is home to several nomadic tribes known for their distinct costumes. Rabari tribe is known by its intricate hand crafted costumes for men called "Kediyo" which is an overlapped fitted tunic with gathers at waist. It is replicated in smaller version for young boys too. On similar lines, The Ahir Tribe boys wear almost same costume but the overlap is missing. The making of the costume is unique as each tribe is known by particular motifs and style of decoration. After analyzing a few of the menswear costumes of various tribes it is important to highlight that this art of garment making is based upon the concept of recycling scraps from old garments using various techniques of hand stitches for seams and embroidery.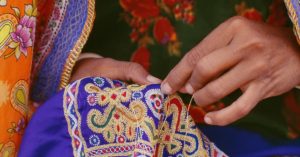 For study, primary sample were collected from Bhuj,  Kutchch region over several visits supported by secondary data is through books and articles on costumes of nomadic tribes of this region.
One such garment for young boy was sourced by the author in the year 2017 which is exemplary for its techniques of recycling and aesthetics. The patterns or shapes of pieces are rectangular or linear representing use of zero-waste technique. The upper portion has intricate embroidery on front and back with cotton thread. The embroidery is done on layers of old fabrics to make it sturdy and render a quilted effect. The quilting type layering technique uses old menswear shirt pieces.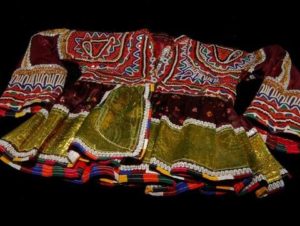 Figure 1 – Kediyo for boys
The collar continued as curved shoulder panel is one "joined" patterns that are patched on to a basic shape of bodice pattern. The shoulder seam is eliminated and the curved shape on chest is highlighted using a thin piping of multicolor in the joint. The piping is of a striped fabric which is cut on cross-grain and acts as a binding for hemline using sewing machines stitches. The fullness at waist are made by are small pleats in waistline that are held together with hand-stitches of blanket type embroidery. The underarm seam is a hand done "flat fell" seam with running stitch. To complete the tribal look a golden strip lurex called as "Gota" is put on the sleeve hem with hand tacked stitches.
The embroidery is done by women keeping in mind the color combination that are already present in the recycled pieces. The pink, green and blue are taken from the stripes of the menswear shirt fabric in bottom. The open chain stitch is used to make abstract motifs representing flowers, home and peacocks. It doesn't use any mirror work which is exclusive for girl's attires. This embroidery is done on multiple layers of fabrics some of which are thick twill weave. The synchronous stitches with various colors represent the colorful spirit of these tribes.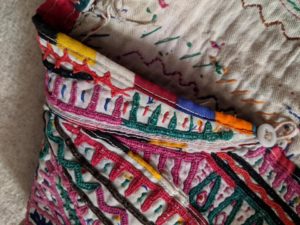 Figure 2 – Raised collar as a patch on to main garment… and front opening with handmade loops and recycled plastic buttons.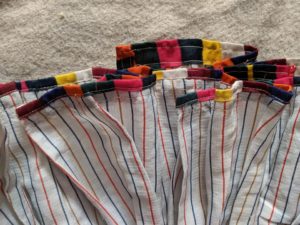 Figure 3 – Hemline with colorful fabric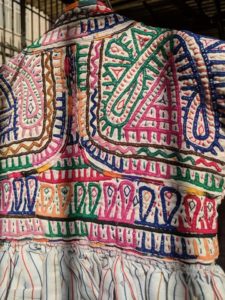 Figure 4 – The back bodice with raised collar and shoulder curved pieces
The Kediyo garments for young boys are exemplary of recycling art in desert tribes of Kutchch region where resources are never wasted. The culture of handmade clothes shows mastery in several areas – zero waste pattern making, hand sewing in layers, hand embroidery that is as decorative as well as functional to impart a composite look with recycling different kind of fabrics. The community has scarcity of all kind of resources, and the practice of using old garments to make new ones is transformed into a sustainable textile art form that can be an inspiration for many designers.
References:
Under the Embroidered Sky: Embroideries of the Ahirs of Kutchch, 2010. Published by The Shrujan Trust, Kutch, Gujrat, India.
Frater, J., 2002. This Is Ours: Rabari tradition and Identity in a changing world, Nomadic Peoples.
Pabiben, 2015. Rabari culture. [online] Available at: http://pabiben.com/rabari-culture
Heaphy L., 2017. Rabari People of Northwest India. [online] Available at: https://kashgar.com.au/blogs/tribal-culture/rabari-people-of-northwest-india