Mergers and Acquisitions (M&A) are considered to be one of the most important ways to expand the business inorganically and respond to the changing market conditions. The wave of M&A activities is not new across the globe and India. The last financial year 2016-17 was a record breaking period for M&A deals in India. The monetary worth of M&A transactions increased from $27.62 billion (2015-16) to $61.26 billion (2016-17). The reason of increase in the volume of M&A deals is the consolidation of various sectors such as telecom, energy & cement and increasing interest of Foreign Instutional Investors (FIIs) in the Emerging Indian market.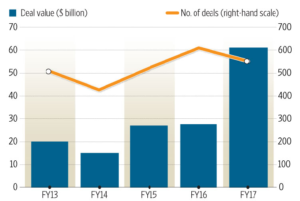 Source: Livemint
Graph 1: Representing deal value ($ billion) and no. of deals of M&A in India
The consolidation wave of merger in the cement industry included large players focusing towards building of capacity and bringing in synergies through the acquisition route. Some of the most strategic deals included acquisition of Jaiprakash Associates' Cement Plants in five states and a grinding unit by Ultra Tech (owned by Aditya Birla Group) for $2.41 billion, Lafarge India's 11 million tonne (mt) cement business acquisition by Nirma for $1.4 billion and ADAG Group's cement capacity acquisition by Birla Corp's (MP Birla Group) for $710 million.  This consolidation wave has led to concentration of 58 percent of market share in the hands of top five industry players.
Another most prominent consolidation wave has been witnessed in telecommunication sector. Idea Cellular led by Kumar Mangalam Birla agreed to merge with the Indian subsidiary of Vodafone (U.K. Telecom Company) for $23 billion to form largest telecommunication company of India. This merger will have a capacity to serve approximately 400 million clients by capturing 41% market revenue and 35% customer base.  Post the announcement of Vodafone and Idea merger, other telecom giants like Airtel and Reliance Communications (Rcom) also announced various mergers and acquisitions. In 2016, Rcom acquired Sistema Shyam Teleservices Ltd. (SSLT) operating under MTS brand which added approximately 6 million customer base. In 2017, Rcom announced its merger with Aircel which will lead to increase in its customer base by 81 million approximately. In 2017, Telenor's Indian group was acquired by Bharti Airtel. Telenor is a Norwegian government entity operating in India since 2009. The major reason behind this telecom consolidation wave included spectrum gain; 4G Edge; increase in subscriber base; footprint in densely populated areas such as Andhra Pradesh, Bihar, Maharashtra, UP and Assam; and lastly to gain edge over competitors.
Other top ten acquisition deals in India includes Appirio acquisition by Wipro for $500 million, Geometric Limited acquisition by HCL Technologies for $200 million, Cutrus Payment Solutions acquisition by PayU for $130 million, Jabong.com acquisition by Flipkart owned Myntra for $70 million, The BIO Agency acquisition by Tech Mahindra for £45 million, Babyoye.com acquisition by Firstcry for ₹3.6 billion, Caratlane acquisition by Titan Company Limited for approximately ₹3.5 billion, Happy Creative Services acquisition by Dentsu Aegis Network for $44 million, Ocular Technologies Sarl acquisition by Sun Pharma for $40 million and Forever 21 India acquisition by Pantaloons for $26 million.
The wave of consolidation among various sectors in India can be viewed as a catalyst for expontential and linear growth. M&A have become the integral part of the economies across the globe and will continue to trend, as inorganic growth is considered to be fastest and safest mode to grow the business. Furthermore, it becomes inevitable to grow business organically in the current era of volatility.