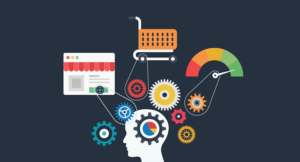 Role of Artificial Intelligence in Marketing
In today's fast paced digital marketing landscape, marketers are all looking for innovative ways to tap customer and engage with them to provide a better customer experience. Artificial intelligence (AI) has great potential to create effective dynamic marketing strategies and improve sales and marketing efforts of the business. In fact without AI, it will be difficult for business to survive in competitive landscape and stay ahead in competition.
What is AI and how it is enhancing marketing efforts
As per the survey conducted by TCS (Tata Consultancy Services) of 835 companies in 2017, AI is most widely used by companies across various functional areas of organization, particularly to discuss about marketing AI could beneficial in following ways as shown in the diagram below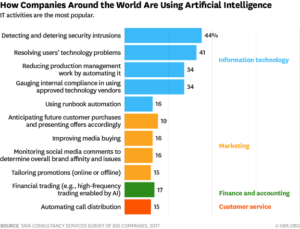 Artificial intelligence in marketing (AI Marketing) is a tool for leveraging customer data and AI concepts like machine learning, deep learning to predict customer behavior and their next move to enhance the customer experience and journey.
Below are the examples of leading brands which, successfully implemented AI in Marketing
1. Nike has launched an online store based on augmented reality and projection systems that allows customers to design their own sneakers in-store. The system displays the design on the blank shoes then the chosen designs are printed on the sneakers and available to the customer in about 90 minutes. This customer engaging feature serves two purpose one to collect data about customer preferences for sneaker brand and second it drove sales.  Further this data is analyzed with machine learning algorithms and Nike design its future products and deliver personalized product recommendations to the customer through different digital marketing tools.
2. Starbucks use mobile app and its loyalty card to collect and analyze customer data. It uses predictive analytics technique for data analysis and sends personalized content through marketing emails and messages to customers. These content include recommendations when they are approaching a local store also suggest offers to increase the customer's average order value.
3. Alibaba a retail giant has opened a physical "Fashion AI" store in Hong Kong with aim of streamlining the fashion retail experience to the customer through the use of Artificial Intelligence.
4. Southeastern Europe's Mobile Gaming Company  is also using AI to convert players from the free version of its game to paid version.
5. BMW's has launched AI-enhanced sports car this is designed for those who values exclusivity and early adoption AI technology. The AI enhanced technology first learns about its driver and then automatically systems are adjusted to enhance cabin experience to suit an individual. BMW's focus on connected cars and technology-enabled cars is to keep its customers brand loyal.
To summarize, AI is most widely used for customer targeting, to get customer insight and thereby anticipating future customer purchase and presenting personalized offers accordingly. It improves upon media buying and monitoring social media comments to determine overall brand affinity and issues. Advancements in Artificial Intelligence are offering companies, better ways to enhance customer engagement, customer experience and brand loyalty.
Image Source:
https://hbr.org/2017/04/how-companies-are-already-using-ai