The Bachelor of Business Administration degree is one of the popular undergraduate programs in India. With the country's economy multiplying, the demand for management professionals is at an all-time high. Best colleges for BBA are continuously innovating their curriculums and teaching methodologies to meet the evolving needs of the industry. Here are some of the key emerging trends in BBA education at leading private colleges across the country:
Experiential Learning through Simulations and Live Projects
Gone are the days when BBA programs solely relied on theoretical classroom lectures. Colleges are increasingly using experiential learning methods like simulations, case studies and live projects to provide practical exposure to students.
For instance, some colleges offer stock market simulations where students can experiment with virtual trading and investment strategies. This provides hands-on experience in how financial markets function. Similarly, live consulting projects with actual companies give students the opportunity to solve real business problems and challenges in the field.
Focus on Specialized Domains
Earlier, BBA programs mostly offered a generic management education curriculum. However, today's top BBA colleges provide specialized domain tracks so students can gain in-depth knowledge and skills in their chosen focus area.
Some of the popular BBA specializations offered by colleges include Marketing, Finance, Human Resources, Operations, Entrepreneurship, International Business, Business Analytics, Digital Marketing, Supply Chain Management and more. Opting for a specialized domain enables students to pursue careers in their field of interest right after graduation.
Integration of New Age Technologies
The business landscape today is being radically transformed by emerging technologies like AI, machine learning, data science, blockchain, robotics, IoT, etc. To prepare students to harness these technologies for business advantage, the best colleges for BBA are rapidly updating their programs.
These institutes are introducing new courses and modules focused on building in-demand technical skills. For instance, some leading colleges now offer specialized BBA programs in Business Analytics where students learn high-value skills like Python, R, Hadoop, TensorFlow, Tableau, SQL, NoSQL, data visualization and more. By providing in-depth exposure to such skills, colleges are improving the career prospects of BBA graduates in fields like business intelligence, digital marketing, fintech and various data-driven roles.
Focus on Holistic Development
In today's fast-changing business environment, dealing with information overload, ambiguity, and unpredictability has become a critical skill for managers. Leading BBA colleges use psychometric assessments, mindfulness techniques, sports, and extracurricular activities to improve students' cognitive skills, emotional intelligence, creativity, and overall personality.
Colleges have also introduced mandatory sports, meditation and yoga sessions to enable the holistic development of students. This prepares them to effectively handle workplace complexity and thrive in the volatile business world.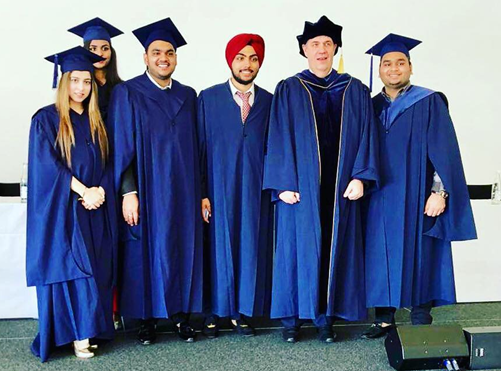 To develop global business perspectives among students, top BBA colleges are introducing an international dimension in their curriculums. This is done through student exchange programs, international internships, courses on cross-cultural management, foreign language classes and more.
Such global exposure provides students with diverse experiences and equips them to work effectively in multinational organisations and multi-cultural teams. It also broadens their outlook to become enlightened business leaders of the future.
Building strong connections and linkages with the industry is vital for management institutes to understand the latest hiring requirements and emerging trends in the corporate world. Leading BBA colleges are forming corporate advisory boards, inviting industry veterans for guest lectures, hosting recruiter talks, conducting employer surveys, etc., to foster close industry linkages.
Colleges also have dedicated industry connect cells to manage summer internships, final placements, frequent industry visits, live projects, and other initiatives that provide rich industry exposure to students. This helps them transition smoothly into the competitive corporate world.
Focus on Entrepreneurship
With job uncertainty on the rise, top BBA colleges like the Top Private Colleges for BBA in Delhi are strongly encouraging entrepreneurship by introducing specialised courses on entrepreneurship, business model development, business plan competitions, startup incubators and accelerators, mentorship programs, etc.
Institutes are providing extensive support to students interested in entrepreneurship after their BBA. This includes startup seed funding to test ideas, co-working spaces for collaborating with other founders, legal and IP support to formalise ventures, networking events to connect with investors and mentors, entrepreneurship cells to provide coaching and handholding, and other valuable resources to enable students to successfully launch their startups or ventures after BBA.
Top Private Colleges for BBA in Delhi like Under Graduate Business School of IILM University are continuously evolving their programs through experiential pedagogies, technology integration, soft skills training, global orientation, industry partnerships and a focus on entrepreneurship to meet the dynamic needs of the business world. Students must evaluate these emerging trends and innovations while selecting an institute like UBS.IILM.EDU to obtain future-ready management education and maximise their career success.