With thousands of courses in business flooding the cities, how do you decide which one is correct for your entrepreneurial aspirations? Today, the need of the hour is to groom business students into leaders who can stand shoulder to shoulder with their global peers. This is where our BBA in Entrepreneurship international degree provides the much-needed edge to students.
With a curriculum designed in association with the internationally-acclaimed Swiss Business School, BBA in Entrepreneurship brings business education of the highest standards to Indian students. This international affiliation serves to add more to the BBA scope for students and allows them to experience learning that goes beyond the rigid boundaries of a classroom and educate themselves on the best global practices, innovations, and ideas in the field.
Developing international competencies
The very idea of entrepreneurship is to take your idea to the world and establish it into a successful business. At UBS, we understand that disruption is ruling the roost in business ventures that have risen to the top today, which is why the modern-day BBA student should be a problem solver. The 3-year (or six semesters) BBA in Entrepreneurship course opens up a student's mind to business problems that have global roots and inculcates a drive for entrepreneurship backed by innovation to solve them.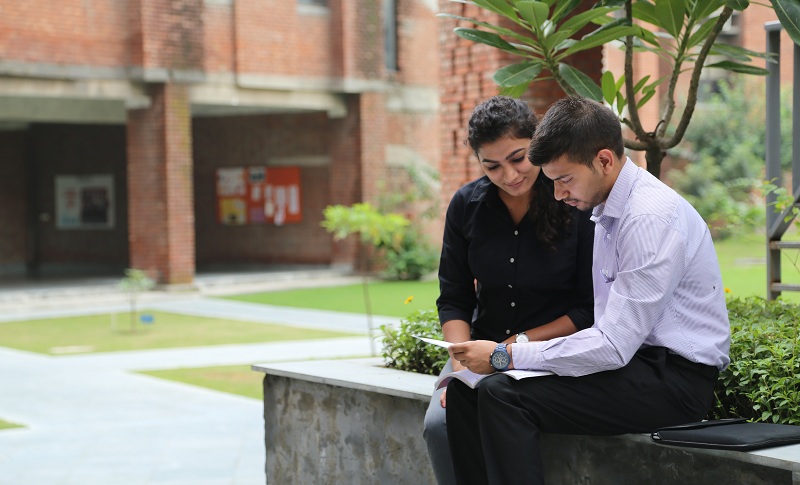 The specially designed modules rise in difficulty from the more basic concepts of marketing, accounting, management, economics, finance, law, etc. and move on towards more niche subjects like venture capital, private equity, mergers, and acquisitions, etc. Entrepreneurial case studies and simulations from Harvard Business School are also included to provide students a chance to test their mettle in managing real-world situations.
Promoting cultural exchange of ideas and knowledge
With more and more students going to Europe, North America and Australia for higher studies, it is important that they are introduced to cultural intricacies of the foreign world. In this era of globalization, a key advantage someone from the business background can have is that of being oriented towards various cultures of the world. Consequently, the BBA in Entrepreneurship course offers foreign language classes to students for sharpening their communication and multi-lingual skills.
Providing critical exposure of the highest level
The BBA in Entrepreneurship international degree provides an international platform to students to experience learning at the Swiss Business School campus for two semesters. More than the course material, it is the entire experience of receiving education abroad at an acclaimed business school with an entirely different culture that exposes students to various facets of skill development and management. At the end of the day, it is this different environment which polishes students into successful entrepreneurs of the future. Another regular exposure to real-life management situations comes in the form of industry internships, company visits, and thought-leader interactions.
BBA is a critical stepping stone towards a future MBA, managing family business or starting-up. With an international course and degree, UBS ensures that your foundation for success is uniquely advantageous and supremely solid.