HR CONFERENCE 2017
"HR & Fourth Industrial Revolution: Dealing with People in the age of Artificial Intelligence"
IILM Graduate School of Management
16, Knowledge Park II, Greater Noida-201 306
28th October, (Saturday) 2017
IILM Graduate School of Management, Greater Noida is in continuous pursuit of all-round excellence in Management Education by narrowing the gap between academia and industry. To that end, IGSM, Greater Noida organized a day-long HR Conference on the theme "HR & Fourth Industrial Revolution: Dealing with people in the age of Artificial Intelligence" on Saturday, 28th October, 2017 at its Greater Noida Campus. A dynamic era of change in the world of work has introduced Fourth Industrial Revolution, which will be shaped by a range of new technologies and innovations like virtual reality, the internet of things, smart robots and artificial intelligence. Advent of machines powered by artificial intelligence has already strongly influenced the work. There are three possibilities in future – machines will replace humans; or it can make people better in what they are doing; or it can invent entirely new jobs. The conference covered a wide range of different horizons related to AI.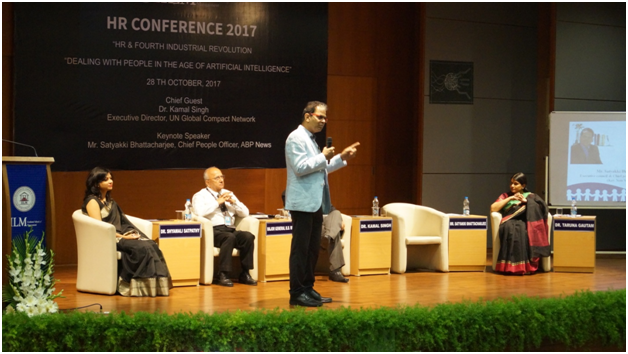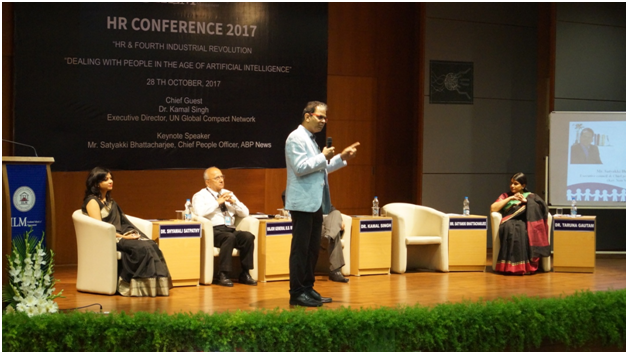 Inaugural Session:
The Conference began with a Welcome Address by Dr. Taruna Gautam, Director, IGSM, followed by an introduction to the Conference theme by Dr. Shyamali Satpathy, Conference Chair. Our chief guest Dr. Kamal Singh addressed the students about the dramatically changing business environment where team members have to overcome space, time and cultural barriers to deliver and sustain in the competition. He also highlighted on new information age, internet of things and artificial intelligence are disrupting existing business models and affecting their long term feasibility.
Dr. Singh during his Inaugural session discussed about the challenges that India is facing such as, Firstly, Challenge of leadership – India faces a problem of leadership and we need to work hard to fill the deficit that we are facing today. Secondly, Challenge of Technology Innovation – Technology is changing every second, e.g.; earlier libraries were the only source of information but today google has taken over all sources of information. Thirdly, Challenge of Uncertainty – Uncertainty makes us think differently. We should be prepared for before for the uncertainty strikes us causing more adverse situations to deal. Fourthly, New Changes – Today countries like China, Taiwan, Japan and Korea are among the countries which are advancing in the technologies especially in the area of Artificial intelligence. He also mentioned that the current technological revolution need not become a race between humans and machines but rather an opportunity for work where people recognize their full potential.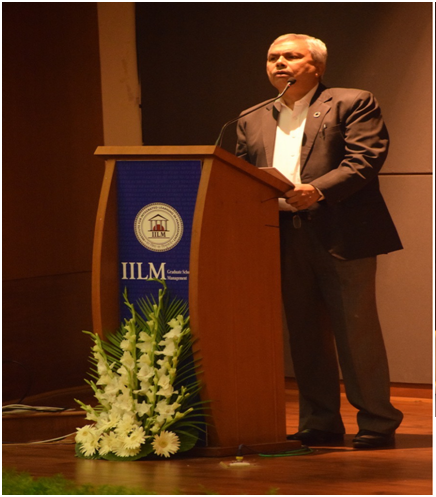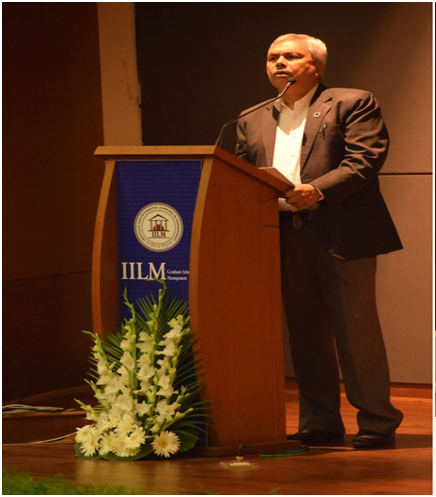 The Chief Guest of the Conference Dr. Kamal Singh, Executive Director, UN Global Compact Network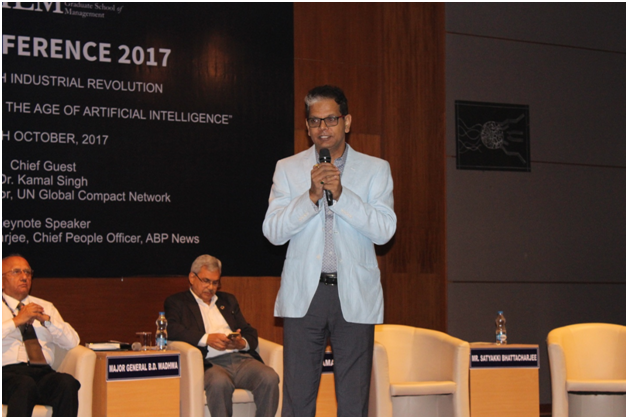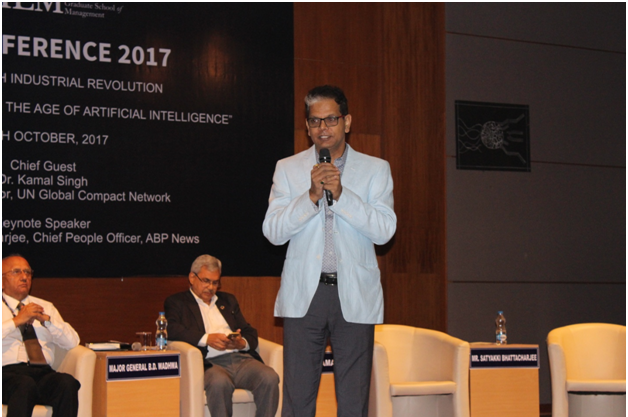 The Keynote Speaker of the Conference Mr. Satyakki Bhattacharjee, Executive Council and CPO, ABP News,
Mr. Satyakki Bhattacharjee elaborated on the broad idea about Artificial Intelligence with its definition and examples. He shares the session of John McCarthy, he said that anything which is not human intelligence is Artificial Intelligence. There is a fear that things like more machines, automation and AI could lead to layoffs, and companies will restructure. These new technologies will impact all disciplines and industries, and even challenge us about what it means to be human. He threw a light on the increase in machines, or human output will decrease in the upcoming era. With growing use of use of machines and more of Artificial Intelligence coming into our lives the criteria required for jobs are changing along with a change in job roles. He also mentioned that automation and digitalization will continue to develop in developing countries like India. What is relevant for each country in this respect is the degree of its technological development and the technological skills of young people who will shape the future of the labour market. Young people in developing countries are optimistic with regard to their professional future.
Both the speakers concluded that in order to get adapted with the change of new technologies we need to explore the impact of technology and advent of machines powered by Artificial Intelligence on work. The session was very interactive and students took deep interest in exchanging ideas with the speakers.
Session 1: Digital Culture Shock: HR's new role in the age of automation.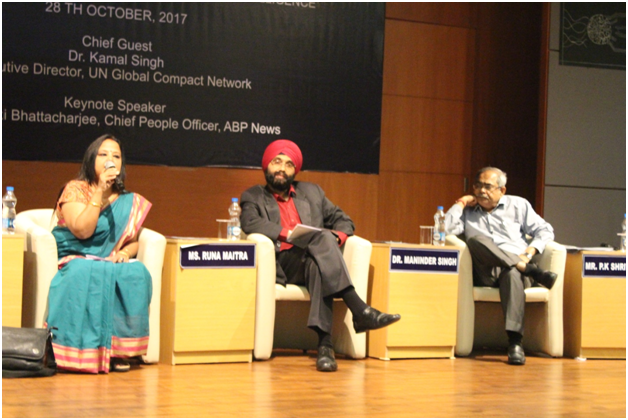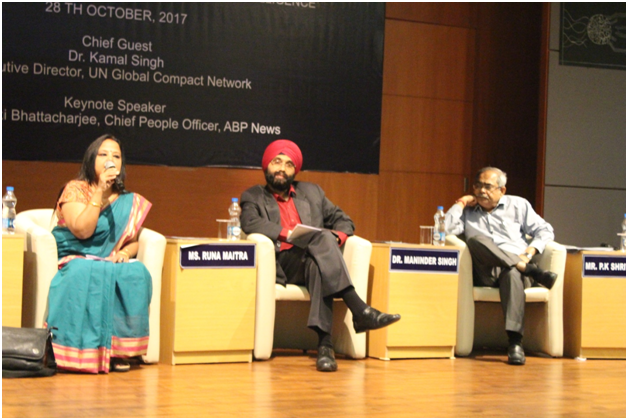 After the inaugural session, the conference preceded to its first technical session our 2nd year student Ms Priyanshu Baranwal, moderator of the session, introduced the panel members and gave a brief idea about the objectives of the session.
The first panel member of this session was Dr. Maninder Singh Khalsa. He started the discussion by sharing his own experience in working in different environment. He said that the digital age in context of India has started in 90's. Then he expressed his views on changes in organization with respect to HR, liquid workforce, and various business models for example: -Uber, changes in employee and employer relationship, shifting of world with our own area of specialization.
Our Second panelist was Mr. P.K. Shrivastava, Head HR, Continental device India Pvt. Ltd. He discussed in the session about the dependence on electronics that has made our lives easier. In today's scenario people have to learn about technology or else they will be out of touch with the fact moving pace of the world. He also shared his experience, in late 70's there were no computers when he started working. He faced difficulties at his workplace as he was recruited in a company where computers were produced. He was coming from an Arts student background with little or no knowledge of computers. Post his selection his company guided which help get adaptive to the new technology and was able to work in the company without any difficulty.
Ms. Runa Maitra, Founder & Director, People Talent International was the last panel member of the first session. She continued the session mentioning us to be a change maker rather than a change taker and Indians have more adaptability than any other country. She talked about social entrepreneurship and technology transformations. She also added that artificial Intelligence will impact the world in a positive way more than a culture shock and AI will keep evolving and makes us be ahead of time. The new age managers would be digitally adaptive, connected with the others, will be willing to learn.
Session 2: Employment trends in the context of people and robotics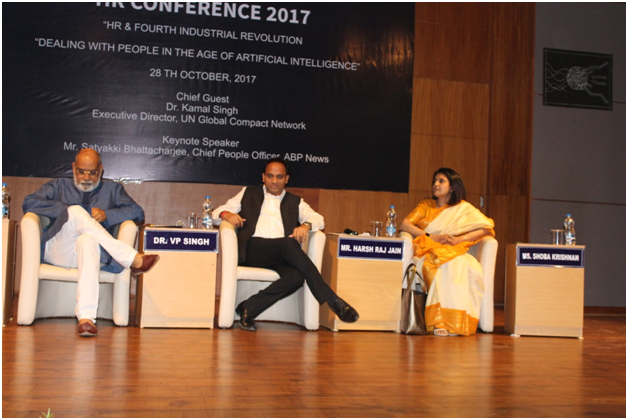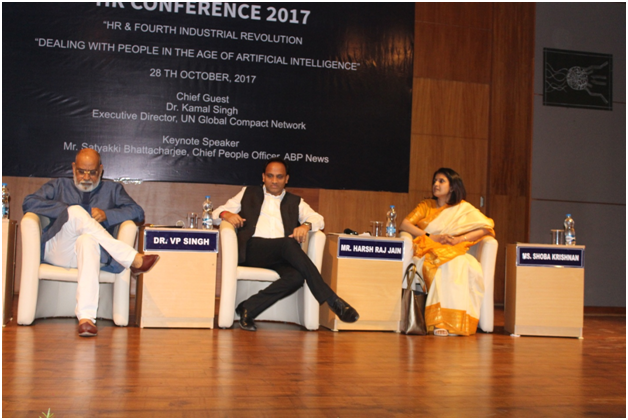 The second session moderated by Mr. Prakhar Rajoria, 2nd year student, introducing the panel members to the audience.
The first speaker of the second session was Mr. Harsh Raj Jain, Manager Recruitment Ebix Software India Private Ltd. He spoke about the fear about Artificial Intelligence and the fourth industrial revolution. According to him we should welcome the change with the open arms. He mentions that rise of machines has the power to break down traditional barriers in organizations by enhancing their human capital. Manpower needs to be empowered by enhancing their creativity and Emotional Intelligence rather than simply able to follow instructions.
Dr. V.P Singh, Former Advisor (Organizational Development) Patanjali was the second speaker of the session. He continued the session by sharing his own experiences. While some jobs are threatened by redundancy and others grow rapidly, existing jobs are also going through a change in the skill sets required to do them. There is a fear that things like more machines, automation and AI could lead to layoffs, and companies will restructure. He also shared that empowerment will offer all business leaders a more meaningful career and will challenge their traditional vision of leadership.
Ms. Shobha Krishnan, Head HR Sukam Power Systems Limited was the last speaker on this panel. She spoke about her personal experience with company Blue Chip and how she faced the shift from a not digital India to a digital India. She shared how amazed she was with the Internet getting faster or how teller clerks were replaced by ATMs. She explained that one thing that will not change in humans is undesirability and adaptability for a long time. She informed us that now people come with HR skills but will soon be emerged with Artificial Intelligence in HR's new role.
Session 3: Empowering people with the rise of machines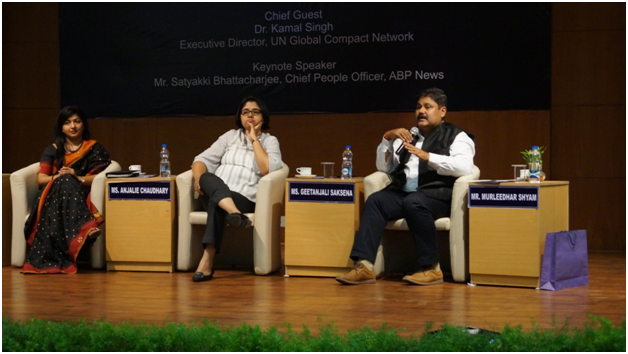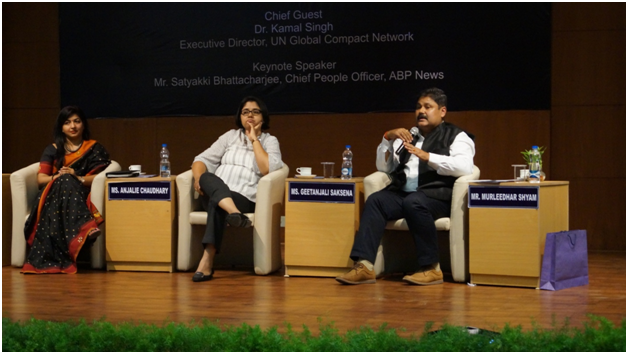 The third session was moderated by Ms. Jessica Arora, 2nd year student, introducing the panel members to the audience.
The first speaker for the third session was Ms. Geetanjali Saxena, HR Consultant, Sage Global HR. She said that today's technology is empowering us. She informed that nowadays technology shifts in every 18 months on an average. People who refuse to adopt the new technology often are the ones who loses job. Organizations in future will be very different from today. People are going to be differently managed and that everyone has to adopt the changes and use it for the required purpose. She also shared that the future of automation in the workplace will provide a scope in implementing technology platforms and processes that give employees a great experience and also empower managers to maximize employee satisfaction and performance.
The Second speaker was Ms. Anjalie Chaudhary, GM HR, Organizational effectiveness & Leadership Development, Tech Mahindra. She shared her experience in working with her first job. She mentioned that workforce is 10 lakhs spread over countries and technology plays a crucial part and it makes life easier and automatic in simpler terms. She also talked about sentimental analysis which understands the sentiments as accurately as 70 % through a software. Empowerment will also offer all business leaders a more meaningful career and will challenge their traditional vision of leadership.
Mr. Murlidhar Shyam, Sector head HR Airport, GMR Airports Ltd. was our speaker for the third session. He spoke about the age of artificially stimulated proximity and how we are going to engage our team in AS Proximity. He helped realize the question that how we are ready for the cyber-attacks. He also shared the knowledge on highest level of uncertainty and ambiguity. He mentioned that we need to prepare for ourselves for the dynamics of environment, where technology is changing so quickly.
At the end he concluded by sharing with us the take-away that we should make ourselves capable enough to deal with the changes.
Valedictory Address & Vote of Thanks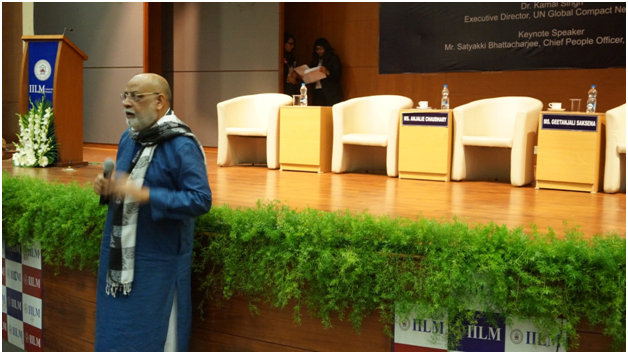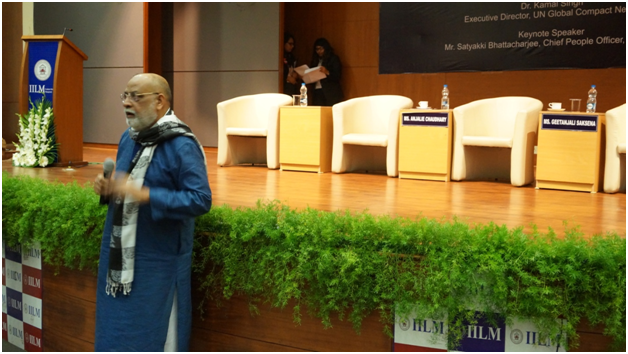 Dr. V. P. Singh gave the Valedictory Address focusing on urge to be wiser, thoughtful, and doing a lot more research, to have clear vision. Dr. Singh showed two videos on artificial intelligence and helped us realize that we should not be scared of artificial intelligence and that we should rule over the new technology rather than the technology ruling over us.
Students showed interest and responded with great enthusiasm while putting up questions to the panelists and guests' speakers. The conference concluded with Vote of Thanks. All those who had contributed in making the conference a success have been acknowledged.