IILM INSTITUTE FOR BUSINESS & MANAGEMENT
HR CONFERENCE ON
ORGANIZATIONAL EXECELLENCE THROUGH THE POWER OF HUMAN CAPITAL

Date – 7th October 2017
The competitive environment of the 21 century where most competition is global and innovation is the need of the hour, change becomes the core competency of any organization Human Capital can play an important role in helping organizations achieve change. Human Resource has always been central to organization. Today, it has taken on an even more central role in building a firm's competitive advantage. The dynamics of change becomes one of the central facets of any business where the role, function and process of Human Resource must be redefined in the context of change. Human Resource Strategies and practices explain how to manage the transition smoothly, rapidly and successfully and make the organisation competitive and reach excellence. For every organization, human resources (HR) are like their treasured assets. In order to faster the employee performances, efforts should be directed to treat them carefully and effectively. Every entity wants to attract and retain talented employees to work for them at top levels. Hence, it is very difficult to achieve organizational objectives without managing human resources effectively.
The International Conference oriented to highlight the importance of human resource management for every organization be it government or private. There is no doubt that the conference has brought out the essence of the theme "Organizational Excellence through the power of human capital" in all its aspects and that too in a brilliant manner. The theme is so relevant in today's context especially when HR as a function is facing lot of challenges and transition.
There was a time when employee management was once referred as workforce management, and then transformed to Personnel Management. Later the same transformed into human resource management and then Human Capital. And now it is Talent Management. In some organization HR is referred as Business partner and that is more strategic in nature. No doubt, HR has now become more dynamic and crucial to the success of the organization in creating excellence. And increasingly the organizations have started realizing that any mistake on this could be a costly one.
We had many leaders from different industry giving their views and perspective on the dynamics of HR. It is very interesting to note that these views came from multiple industry right from an Aircraft manufacturing company, Consulting, Insurance, Consumer durables and to Software
IILM Institute for Business and Management,Gurgaon organised an International HR conference on the topic:"Organizational Excellence through the Power of Human Capital" on 7th October 2017.
The day of conference began with all zeal and extol by lighting the lamp in the presence of our esteemed guest, Dr. Aquil Busrai, Mr, Anshu, Mr. V.P.Singh, participants from the corporate and academic sectors along with the IILM members.
Conference started with the welcome speech given by Dr.P. Mala Rvizhi, Director Academics, IILM. She extended her warm welcome towards all the respected speakers of the conference with all fervour of gratitude and gaiety.
Starting with the conference topic "Organizational Excellence through the Power of Human Capital", Dr. Pinky Goswami briefed the objective of the conference and gave a brief recapitulation of the HR Conference of 2016. In her speech, she stressed on giving importance to the concept of collective intelligence in order to bring about organizational excellence. She also remarked the need to cultivate a strong sense of team spirit, wherein each member will complement each other for organizational success.
Keynote Speaker:
Dr. Aquil Busrai, our esteemed Key note speaker – A man with exceptional knowledge about Human Resource and having an array of experience serving in the field of HR for more than 4 decades.Today, Mr Busrai owns his own consulting firm named "Aquil Busrai Consulting". Mr. Busrai keeping his view point stated "Improvise-Adapt-Adopt" and deal with status quo of technology advancement, keeping hands on now HR people recharge the human capital for organisation.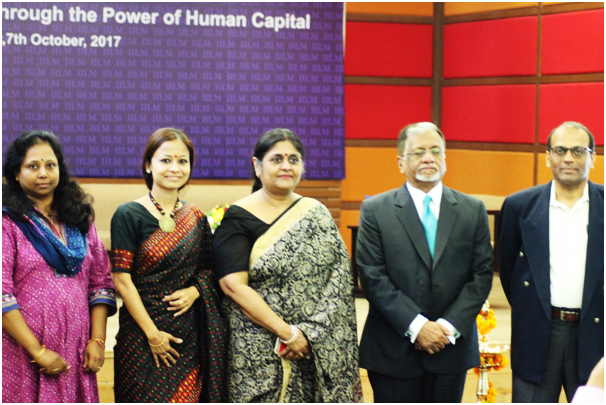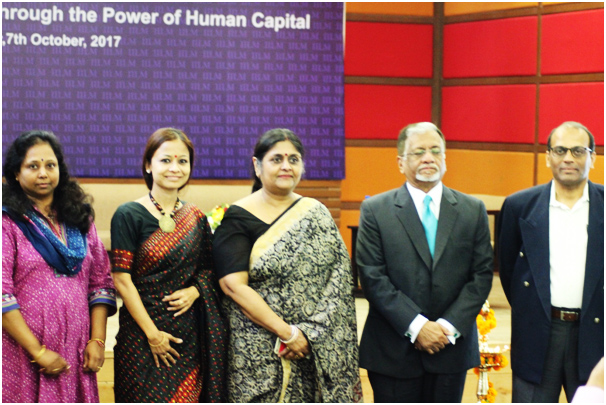 Plenary session: Leading the conference ahead plenary session begins.
Mr. Paramjit Singh Lamba, AVP HR, Orient Craft Pvt. Ltd. addressed the audience in the Plenary Session about the skill sets required for the future. He discussed about work life in future in which he told about the attributes which a company would be looking in a candidate in the future including social intelligence, new media literacy, etc. He also told how the export sector is the most affected sector by recent government reforms.
Mr. Dhananjay Singh, Director General NHRDN putting his view point said that focussing on Investing in good habits and ability to work in a team is all about organizational excellence through human capital.
Mr. V.P.Singh, Advisor OD Patanjali Ayurveda Ltd , Human capital leader with proven credentials for building process driven, people centric & customer focused organisations continued the session and said that "Fanatic discipline; Monomaniacal Creativity that is empirical and Productive Paranoia are required to be great".
Mr. Ashutosh Anshu, General Manager, Head HR, Hitachi India addressed the session and enlightened the young PGDM students with his viewpoint. He said, "You can't do today with yesterday's methods and be in business tomorrow". He also spoke about how to adopt today's changes into our everyday lives. He stressed on the point of "ASK", Attitude, Knowledge and Skill.
Session 1: Raising the Bar of Human Resources Management
Dr. Saima Rizvi, session moderator for the session welcomed the entire respected HR professional and talked about how Humana Resources Management is raising its bar from traditional shift to Strategic shift in the modern age.
Speakers of the Session were:
Ms. Ruma Batheja: Head Human Resource Knowledgetics and she talked about "Raising the bar through Inno-Create People Management Skills; Collaborating Humanity and Technology; Emotional and Organizational wellbeing."
Mr. Gautam Rao: AVP Max Life stated"Four pillars required to raise the HR bar"
1. Build Talent Pipeline and Capability
2. Enhance Business Performance
3. Innovate HR Excellence
4. Inspire Engagement".
Corporate Paper presenter: Ms Shefali Bahi shah, Head HR Exicom presented a paper on "Impact of Organizational competencies on organizational performances in manufacturing industry"
Student Speakers: Sefali Mittal (PG 2017-2019, IILM Gurgaon) spoke on the changes in HR from the traditional world to the world of the Millennial. Ms. Ruchi Singh (PG 2016-2018, IILM Gurgaon) spoke on how technology becomes a boon to the world of HR.
Session two: Redesigning workforce for 21st Century Manager
Dr Vidhisa Vyas, session moderator for the session briefed the session explaining the need and redesigning demand for the workforce and work culture in 21st century
The session picked up steam with the topic 21st century manager Ms. Divya Jain, Director Grant Thornton talked about the Workplace for the Human Age. She said today's workforce is even more powerful than their company itself. They decide the fate of the company and are very keen on learning. Hence, the most required thing in today's era is an open and honest feedback which can lead to the betterment of the workforce which in turn can increase the output.
Ms. Anju Sabhrawal, Founder and CEO, People Bridges talked about Well-developed and embedded cultures that are the key to redesigning the workforce.
Mr. Ajay Mehra, Managing Director in South Asia of Airbus. He expressed how we first need to identify ourselves and then other employees as an HR manager. First we need to follow and then only implement the rules. He also talked about the sustained expansion of the service industry in today's era.
Paper Presenter: Ms.Monika, Junior Research fellow from Jamia Millia Islamia presented a research paper on workplace spirituality and its impact on workforce. She emphasized how employee satisfaction is more important than consumer satisfaction.
Student Speaker: Charu Goswami (PG 2016-2018, IILM Gurgaon) talked about how vision leads the company. Whatever is the employees' vision about his life is sufficient to judge his role in the company.
International student Paper Presentation: Neil from Sweden said, "Human Resources is the most important in India as here there are too many people involved as opposed to developed lands where more machines are involved".
Session 3: Managing People Performance through HR Analytics
This session focused on people performance through analytics that is so critical in today's competitive job market with Dr. Sona moderating the session.
Mr. Deepak explained how we are between a cusp of technology and globalization and in the middle is HR. He also said whatever was difficult for the computer to understand has been made easy by humans through emotions. Hence, it is important to understand the needs and sentiments of the employees for better performances.
Mr. Gaurav Bakshi, Co-Founder and Managing Partner explained how predictive analytics in HR is the need of the hour today. He said future skills, future needs are to be anticipated by the HR keeping in mind both inside and outside factors.
Similar views were expressed by Ms. Malabika Bose, HR Head, Blackberry. She shared a quote relating to whatever gets measured gets managed and whatever gets managed gets executed. She also gave insight about the three stages of HR analytics namely predicting, analysis and reporting.
Ms. Prerna spoke about the transparency needed in the culture of the company which can only be brought by the HR.Towards the end, Mr. Siddharth Dutta a first year PGDM student presented a paper in which he focused on the Maslow's theory in the Indian Context.
We, at IILM consciously make an effort to bring the industry and academia together, through such conferences and we will continue to strive for the same in future. On the behalf of IILM gurgaon, Prof Siva Ram Krishna delivered the vote of thanks to all the privileged guests, corporate jargons and students of IILM for their contribution in making the conference all a grand success.
Conference Patron: Dr. Sujata Shahi
Conference Chair : Dr. Pinky Goswami
Conference Scientific Committee: Dr. P.Mala and Dr. Saima
Student Core Committee Members:
PG1: Shefali Mittal, Massom Garg, Nayan Saluja, Megha Mathur, Manan Porwal,Rishabh, Chirag, Alisha Suraj Gulati, Ketan Patwari, Harshit, Aman Godaria,Venika
Social Media Team : Ruchi Singh,Sunit Raj, Harbind Singh, Priya Gupta (PG 2016-2018)
Report Compiled By : Dr. Pinky Goswami, Prof. Rachna Madaan, Ms. Manya and Ruchi Singh (PG 2016-2018).